North Regional Round | ConQuest 4.0: India's Premiere National Quiz on the Indian Constitution, History and Politics
North Regional Round | ConQuest 4.0: India's Premiere National Quiz on the Indian Constitution, History and Politics
Time 10 A.M to 1 P.M
Venue National Law University, Delhi
The Centre for Law and Policy Research (CLPR) is excited to announce the 4th edition of ConQuest: India's Premiere National Quiz on the Indian Constitution, History and Politics.
Over three years, ConQuest has become the largest quiz and educational activity celebrating India's constitutional history and politics. Over 6500 students have engaged with the previous editions of ConQuest.
ConQuest encourages undergraduate and graduate students from the natural sciences, engineering, social sciences, humanities, and law to engage with the Indian Constitution, law, politics, history and current affairs.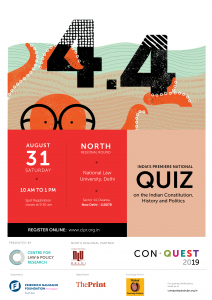 Who can participate?
Undergraduate and graduate students from all disciplines.
What is the format of the quiz?
It will consist of four regional rounds and a national final.
Each regional round consists of a preliminary and a regional final round conducted on the same day.
The preliminary round will be a written test. The six highest scoring teams will go onstage to compete at the regional final.
The top two teams from each regional final round will compete at the national final to be held in Bengaluru.
What will the Quiz cover?
The Quiz will focus on the Indian Constitution, politics, law, history and current affairs.
What are the rules and regulations governing the quiz?
Please find the rules and regulations for ConQuest 2019 here.
How to register?
Online registration can be done here.
Spot registration can be done at your regional partner venue. This will close half an hour before the start of the preliminary rounds.
We strongly recommend you register online to allow us to plan effectively.
More details here.
Time 10 A.M to 1 P.M
Venue National Law University, Delhi