Transform 2021: 5th National Conference on Transgender Rights and the Law by CLPR | December 11th and 12th
Transform 2021: 5th National Conference on Transgender Rights and the Law by CLPR | December 11th and 12th
Time
Venue Bangalore International Centre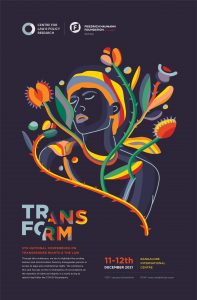 Transform is the first conference in India on transgender rights and its aim is to bring together academics, activists, lawyers, and members of the transgender community, to push new boundaries for trans-formation of the law and for a better understanding of transgender equality in India.
On 11th and 12th December, CLPR will organise Transform 2021, our 5th National Conference on Transgender Rights.
This year, we aim to highlight the existing barriers and discrimination faced by transgender persons in access to legal and constitutional rights. The conversations will focus on the re-emergence of conversations on the assertion of rights and dignity in a world trying to rebuild itself after the COVID-19 pandemic.
This year the conference will be more compact and focused, as Roundtables allow for more substantive conversations. Due to limited space, kindly RSVP if you intend to attend.
The registration form is available here.
You can contact Mansi Singh (mansi.singh@clpr.org.in) for queries.
Time
Venue Bangalore International Centre