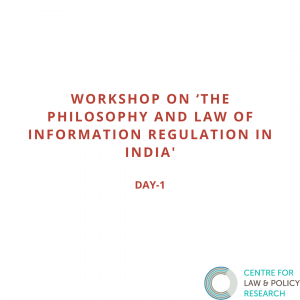 On 11 and 12 December 2020, CLPR organised a workshop on the Philosophy and Law of Information Regulation in India, which brought together scholars and practitioners across disciplines to present research and reflections on different aspects of information regulation and law in India. This blog summarises day 1 of the workshop.
The first panel of the workshop concerned information infrastructures in India. What comprises the often hidden underpinnings of our large-scale information systems, and what can we learn from interrogating these structures? These questions were discussed in Nishtha Bharti and Naveen Thayyil's paper 'Ignorance By Design: Health Data Architecture, Artificial Intelligence And The Flailing Health System In India' and Shivangi Narayan's paper 'Guilty until Proven Guilty'.Amba Kak, Noopur Raval, Radhika Radhakrishnan were the discussants.
Bharti and Thayyil's paper explores India's digital health information systems and the epistemic challenge of creating knowledge infrastructures for 'Artificial Intelligence' without adequately addressing more fundamental challenges of public health in India. The discussants raised concerns about the political economy of information governance in India, and how certain populations are made visible or invisible to the government through the use of particular forms of information infrastructure.
Narayan's paper examined the everyday information and knowledge-making practices of Indian policing – through police databases, registers, diaries and records – and how they reproduce structural inequalities of the caste system, and particularly what it could imply for information infrastructure projects like the CCTNS and 'predictive policing' systems. The discussants analysed the concept of databases as technology, and particularly on the transformations brought about by digital technologies in policing.
The second panel explored the theme of 'Information Flows and Regulatory Governance'. The papers were discussed by a panel of practitioners and academics including Siddharth Narrain, Latha Reddy and Prashant Reddy.  Arindrajit Basu presented his paper on 'India and the Geo-Politics of Cross-Border Data Flows', which analyses the Government of India's approaches towards norm-development in data flows on the internet. Basu's paper argues that India's global positioning on cross-border data flows is driven by short-term strategic interests, institutional cohesion and key lobbying groups. The discussion of the paper by the panellists brought up emerging concerns of data protection and data policy in India and their interplay with cross-border data flows.
Vibodh Parthasarathi presented the second paper in this panel, 'Illusions of information and Evidence-based policy research: Some aspects of 'Enumerative Accountability'. Parthasarathi's paper examines the enumeration of media audiences, particularly through algorithms and on online platforms, as a means to explore broader questions on 'enumerative accountability' in media policy and regulation, including interrogating what counts as appropriate metrics of audience enumeration, and what it could imply for media policy. The discussions centred around the role of the state and the law in the subjective use of enumeration as 'evidence' for media policy.
The papers presented at the workshop on the Philosophy and Law of Information Regulation in India will form a part of an upcoming open-access publication by CLPR.