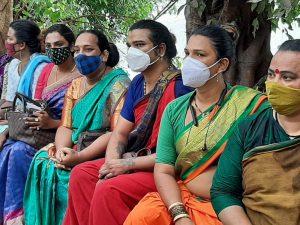 Source: Wikimedia Commons; Image only for representational purpose
Unlike many other Indians, LGBTIQ+ Indians don't yet have equal rights.  They, in reality, are still sub-legal citizens.  This reflects abundantly in our laws spanning across anti-discrimination, education, sexual crimes and harassment, civil and criminal law, healthcare, housing, the labour code, and much more.  Our laws exclude LGBTIQ+ communities and that leaves a huge legislative vacuum.  Despite NALSA and Navtej judgments and the contentious Transgender Rights Act, many states remain non-starters.  Those that have begun have limited themselves to just transgender persons and are yet to even include them in their public health and welfare schemes.  Some have even rejected Ayushman Bharath.  Consequently, BPL Kothi, queer, FSW, MSM, MSW, TgSW, GNC, and transgender persons are structurally excluded and rendered highly vulnerable.
Challenges of COVID 19:
BPL LGBTIQ+ persons now face erasure of traditional livelihoods viz. begging and sex work and struggle to survive. Many are already excommunicated from their natal homes, don't have any government ID proofs, and are HIV+.  Some have begun Anti-Retroviral Therapy (ART). Many haven't despite being HIV+ for years. The WHO's Test and Treat Policy of HIV prevention launched in India in April 2017 by the MoH&FW is unknown to many.
There is widespread ignorance on the safety of vaccines among persons living with HIV and particularly if they aren't on ART yet.  Ignorance triggers chaos, fear, and vaccine hesitancy.  This is universally the case across various sections of even our "mainstream" societies and isn't specific to LGBTIQ+ persons.  BPL LGBTIQ+ persons face stigma at healthcare establishments with particularly cishet men shooing them away.  Being historically dependent on traditional livelihoods, many have ended up becoming victims of the law as under trials as their occupations stand criminalised in law.  These communities fear participating in the police-led vaccination camps as many of them insist on Aadhaar cards.  They aren't considering other government ID proofs despite the Co-Win portal allowing seven other alternative government ID proofs.
Most BPL LGBTIQ+ persons are illiterate and don't have smartphones to self-register.  They are also being turned away from vaccination camps for being "unregistered".  Additionally, they are stigmatised as "super spreaders" (sic.) and are evicted out of rented homes by owners/neighbourhoods.  Even before the pandemic, transgender persons faced stigma in the disposal of their dead.  This has only worsened now.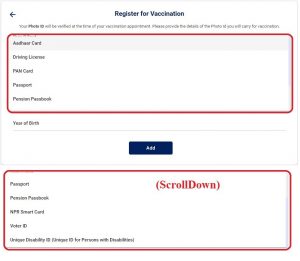 Way forward:
To mitigate the suffering of transgender and HIV+ persons and sex workers, they must receive rations under the PMGKY and subsistence allowances of at least four thousand rupees till Diwali.  Mammoth vaccination awareness drives must be undertaken in every district to address all the challenges of persons living with HIV, particularly those not on ART.  Subsequently, there should be many free vaccination camps in each district in India for LGBTIQ+ persons.  Both these shouldn't be led by the police but only by public healthcare professionals to address all the specific healthcare needs of the persons living with HIV.  Widespread spot/walk-in registrations which accept any one of the government ID proofs listed on the Co-Win web portal without insistence on Aadhaar cards must be the norm.  Governments must strictly punish those evicting sex workers, HIV+ and LGBTIQ+ persons, and stalling their funerals.  Transgender persons, sex workers, and persons living with HIV must be fully included immediately in public health and welfare schemes with comprehensive COVID-19 coverage and for all of its opportunistic infections.