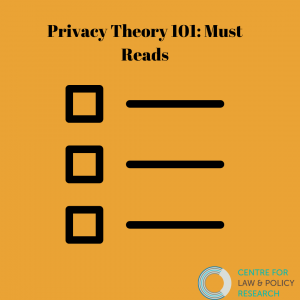 In the last few blogs, we discussed some fundamentals of privacy theory – spanning the historical origins of the 'right to privacy' in legal jurisprudence in the USA, to contemporary scholarship delving into the implications of data-driven and machine learning environments for our understandings of privacy. This week, we list out some critical scholarship on the theoretical foundations of privacy, and its relationship with regulatory practice in India (apart from the readings already listed).
Understanding Privacy, Daniel J. Solove, (Harvard University Press, 2008) – Solove presents a brief, yet comprehensive account of the development of privacy theory and jurisprudence (primarily in the US and EU). In doing so, he analyses and critiques the shortcomings of prevailing normative frameworks around privacy, and presents a theory of privacy which could account for these apparent shortcomings. Solove's criticisms of existing theories of privacy focus on their inability to apply broadly and across the different dimensions and interests recognised as fundamental to privacy. Solove argues for a theory of privacy incorporating four broad arguments – first, that privacy does not necessarily have a conceptual core – but draws from a family of common and related elements; second, that a theory of privacy must be drawn up from specific contexts, instead of applying a generalised, top-down approach; third, that a theory of privacy must recognise that it is not a static, fixed concept, but is variable across different dimensions like culture, time and space; the final approach he incorporates is to frame the theory of privacy within the legal theory of pragmatism – that privacy theory should focus on problems and dislocations that arise when social activities are disrupted in particular ways. Understanding Privacy is a foundational text for thinking about the theoretical foundations of the right to privacy.
Justice KS Puttaswamy and Ors. v Union of India and Ors. +  Privacy After Puttaswamy (EPW, Vol. 52, Issue No. 51, 23 Dec 2017) – The Supreme Court of India's Puttaswamy judgements – arising from a common batch of writ petitions challenging the Government of India's Aadhaar project – are essential readings for privacy scholars. The 9-judge petition both reaffirmed and developed a constitutional right to privacy, as well as a broader reading of fundamental rights under Part III of the Constitution of India and the scope and manner of judicial review of rights infringing action (in its affirmation of 'proportionality' as the standard for judicial review of government action). The application of this framework has not been entirely consistent since, and the 4-judge bench's assessment of the factual matrix in the Aadhaar judgement is a testament to this – although Justice DY Chandrachud's dissenting judgement stands out for its development of the theory of privacy as self-determination. For a concise introduction (for both legal and non-legal scholars) to how Puttaswamy changes the landscape of constitutional jurisprudence in India, and the contours of a right to privacy in India, read the Economic and Political Weekly's special issue on Privacy after Puttaswamy.
Group Privacy, Linnet Taylor, Luciano Floridi and Bart Van Der Sloot (eds.), (Springer, 2017) – Contemporary privacy scholarship and jurisprudence has focussed to a large degree on the individual – as a moral agent and as a bearer of rights. This collection of volumes interrogates what privacy means in relation to communities and groups, and the conceptual challenges that thinking about 'privacy for groups' poses. The papers interrogate the ontological foundations of individual-centric rights to privacy, and how these may be insufficient to address privacy harms to groups, as well as the implications of new forms of information technologies and organisation for groups and collectives. As information regulation in India also begins to recognise the privacy-related rights of groups (for example, under the Non-Personal Data framework), this collection is essential reading.