The Bangalore International Centre organized a panel discussion on "Communal Violence- A New Phase" on 3rd August 2017. Professor Sudhir Krishnaswamy, Managing Trustee of Centre for Law & Policy Research was among the three panelists, the other two being Professor Ashutosh Varshney and Professor Sandeep Shastri. The discussion centered on lynchings and vigilantism, the new forms of communalism witnessed in the last decade, particularly post the Godhra riots of Gujarat in 2002, which was the last incidence of communal violence at a mass scale.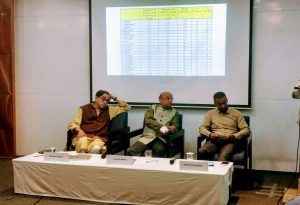 Professor Sudhir Krishnaswamy spoke of the legal regulation of communal violence by means of the existing and proposed laws in India including the Communal Violence Bill of 2015.  He focused on lynching as a communal act, in particular on a comparative analysis with the United States' experience of the Ku Klux Klan and on whether parallels could be drawn as it was uncertain whether there was an organizational basis to lynching in the Indian context. He further spoke of private enforcement by individuals as seen in the case of the Dadri lynching incident as well as the consequent private retaliations demonstrated by the Dalit uprising in Una. The pertinent question raised in this context was whether where the State fails to protects the minorities, would they be entitled to protect themselves and defend their constitutional liberty?
Professor Sandeep Shastri spoke of a new age communalism that is accompanied by a strong polarization within society, highlighting the significant role played by the media in creating an identity of "the other", and the rich political dividends resultant of communal politics. The Panel saw active participation from the audience and there was further discussion centered on cow politics and the use of communal violence as a political tool where Professor Ashutosh Varshney cited the example of the Muzzafarnagar riots, which preceded the elections in Uttar Pradesh as an act to further the agenda of the BJP to make Muslim vote irrelevant.