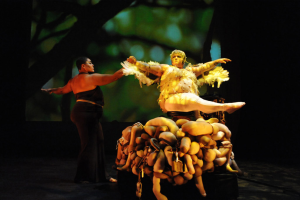 Image Description: A fat white femme dressed as a baby bird hovers, one leg extended at a right angle from her body, over a nest made of twisted body parts and prosthetic limbs. A Black femme with short hair, bare shoulders and a black bodysuit holds her hand, extending the other arm behind her body. They are framed against a background of tree branches and dappled leaves.
Source: Sins Invalid performance featuring Nomy Lamm and Cara Page. Sins Invalid is a disability justice based performance project that incubates and celebrates artists with disabilities, centralizing artists of color and LGBTQ/gender-variant artists as communities who have been historically marginalized. For more information, visit www.sinsinvalid.org. Photograph by Richard Downing © 2009, courtesy of Sins Invalid.
---
There are two competing, often overlapping, movements regarding persons with disabilities – disability rights and disability justice. The former focuses on securing equal opportunities and equal rights for all people with disabilities, while the latter is a framework that examines disability and ableism as it relates to other forms of oppression and identity. "Disability justice" is a term coined by the black, brown, queer, and trans members of the original Disability Justice Collective, founded in 2005 by Patty Berne, Mia Mingus, Stacey Milbern, Leroy Moore, Eli Clare, and Sebastian Margaret.
In India, COVID-19 brought the challenges faced by persons with disability into the limelight. On 27 March 2020, the Department of Empowerment of Person with Disability issued comprehensive disability-inclusive guidelines to States/UTs for protection and safety of persons with disabilities in light of COVID-19. However, this was superficially implemented as news of persons with disabilities being deprived of monthly pension and having no access to caregivers or health care became more common. The inequality is also seen in terms of the country's structural framework. Directives issued by the Central and State governments were not available in accessible formats. The announcements by Prime Minister were missing language interpreters. This really shouldn't be a surprise as the denial of accessibility for persons with disabilities has always been a part of the ableist structural model.
Historically, the rights of persons with disabilities have been fought through disability rights activists. It helped in advancing the community through legal rights, independent living, education, rights at work and more. Yet, it has failed to account for the complex and multiple experiences of marginalization and oppression of folks with disabilities who are also discriminated against because of their race, caste, sexual orientation and gender identity and expression. 
Founder of Sins Invalid Project, Patty Berne stated "Disability rights doesn't challenge any structural oppression except for disability. It invisibilizes many people's lives." This echoes Kimberlé Crenshaw's work on intersectionality.
The current legal framework and the normative structure in India only recognizes a single identity narrative, disregarding the multiple identities and aggravated discrimination faced due to its intersection. Discriminatory experiences faced by a person with disability, a queer person with disability, or a person with disability belonging to scheduled caste or scheduled tribes are radically different. Discrimination and inequality in India, therefore, cannot be understood by focusing on a single axis of identity. It has to be examined and explored through an intersectional lens, where multiple and different identities of people collide.
In this context, a mere disability rights movement which doesn't address systemic ableism is insufficient. An inclusive policy that challenges systems of oppression including ableism, casteism, sexism, class, or homophobia is needed to focus on the concerns of persons with disability in India. A shift from the disability rights approach, which works within the ableist social structure, to an inclusive disability justice movement in India is necessary. A legislative framework, such as an Equality Law, which promotes equality and anti-discrimination, taking into consideration the multiple identities of persons with disabilities would be a positive first step.
As Mia Mingus said, "Disability justice has the power to not only challenge our thinking about access but to fundamentally change the way we understand organizing and how we fight for social change." Moving towards disability justice will broaden ideas of access and care in India.