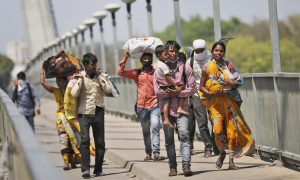 Location: Allahabad(UP); Image Source: Rajesh Kumar Singh/AP; Image only for Representation Purpose
On 27th May 2020, a tragic image of a child playing beside his dead mother made headlines. Unfortunately, this is only one of the many instances, which has brought to light India's stark class inequalities during the migrant crisis.
The migrant crisis has certainly brought some attention to class inequality in India. However, we must resist the urge to view the crisis only through class. About 16% of the total intra-state migrants in India belong to the Scheduled Castes (SCs) and 8% to the Scheduled Tribes (STs), almost equal to their share in the total population, as per data from Census 2011. It is then plausible that a significant fraction of migrants attempting to return to their homes during the lockdown are SC/STs. These communities are vulnerable on the account of their class and caste.
Those who've decided to stay back in the city or unable to leave, are also in a precarious position. Research undertaken by Sidhwani, correlated the ward-level census data with caste identity data shows residential segregation on SC/SCT lines: access to water and a toilet was lower in wards where the proportion of SC/STs was twice as much compared to the city average.
Slums which usually house significant populations of lower caste persons suffer from poor living conditions, food insecurity and a lack of immunisation. Moreover, the tight quarters and the communal spaces of the slums are natural conduits for the virus to spread. It would be impossible for the residents of a slum to maintain strict health and hygiene. SC/ST persons would find it even harder to access public amenities owing to segregation practices like untouchability.
Overall, the SC/ST community is at great risk and face unique challenges with regards to COVID-19.
The trans community, due to their specific vulnerabilities, have found themselves in a comparable situation. Due to several litigations that were initiated, High Courts in Karnataka, Telangana, Patna and Jharkhand have passed orders which made it possible for them to access food grains and medicines through the public distribution system. The Supreme Court also has taken up a Suo Motu petition regarding the migrant crisis.
A similar effort can be made to protect SC/ST persons who are suffering from the compounded difficulties of COVID-19 as well as societal discrimination. Court orders providing the community with access to food, healthcare, transportation and shelter would help in the fight against the pandemic. Additionally, the pandemic should not be used as an excuse to abrogate from the duties under the relevant acts to protect the SC/ST community.
The everyday difficulties and discrimination faced by the SC/ST community have been exacerbated due to the pandemic. An intersectional approach to addressing these issues will help the SC/ST community navigate the COVID-19 crisis.