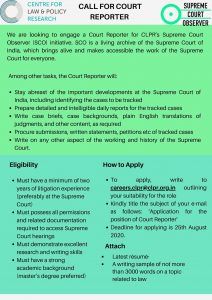 The Centre for Law and Policy Research, Bangalore (CLPR) is a not-for-profit organisation, dedicated to making the Constitution work for everyone through law and policy research, social and governance interventions and strategic impact litigation.
We are looking to engage a Court Reporter for CLPR's Supreme Court Observer (SCO) initiative.
SCO is a living archive of the Supreme Court of India, which brings alive and makes accessible the work of the Supreme Court for everyone. It aims to build an enduring constitutional culture in India by enhancing the popular understanding of the Supreme Court's contribution to our everyday lives. Towards this, we track and report on important cases emerging from the Supreme Court. For each selected case, we provide unparalleled depth and access through comprehensive plain English reports of oral arguments and an archive of all written submissions.
More details about SCO's work may be found on the website: scobserver.in 
Among other tasks, the Court Reporter will:
· Stay abreast of the important developments at the Supreme Court of India, including identifying the cases to be tracked
· Prepare detailed and intelligible daily reports for the tracked cases
· Write case briefs, case backgrounds, plain English translations of judgments, and other content, as required
. Procure submissions, written statements, petitions etc of tracked cases.
· Write on any other aspect of the working and history of the Supreme Court.
Eligibility: 
· Must have a minimum of two years of litigation experience (preferably at the Supreme Court)
. Must possess all permissions and related documentation required to access Supreme Court hearings
· Must demonstrate excellent research and writing skills
· Must have a strong academic background (master's degree preferred)
How to apply: 
To apply, write to careers.clpr@clpr.org.in outlining your suitability for the role. Kindly title the subject of your e-mail as follows: 'Application for the position of Court Reporter'.
Deadline for applying is 25th August 2020.
Attach:
· Latest résumé
· A writing sample of not more than 3000 words on a topic related to law