Recently, the National Crime Records Bureau (NCRB) released the Crime in India Reports for 2017 and 2018 in quick succession, after drawing criticism for the inordinate delay in releasing these statistics. These reports are the primary source of data to track the incidence and reporting of crimes in India and the performance of the police and courts in investigating and adjudicating cases, including those related to crimes against Scheduled Castes (SCs) and Scheduled Tribes (STs).
In the past, we have analyzed NCRB data on crimes against individuals from SCs and STs on three distinct lines – crime rates, the performance of courts and crimes against women. This post builds on this study and reviews the shifts in crime rates and performance of courts between 2016 and 2018 in four Southern States – Andhra Pradesh, Karnataka, Kerala, and Tamil Nadu.
Crime rate
Recall from our previous posts on crime rates that it is not expressed in percentages but is the proportion of crimes against SCs and STs as a proportion of their overall population for every 100,000 persons i.e. crime rate = the number of cases reported/Census 2011 population (eg. 2014, 2015) or mid-year projected population (eg. 2016) * one lakh.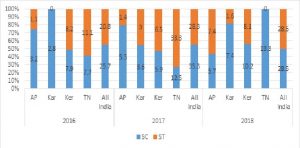 The national crime rate has remained more or less constant since 2016. While both Andhra Pradesh and Karnataka reported a decrease in the crime rate against SCs, Kerala and Tamil Nadu reported an increase. On crime against STs, Kerala once again recorded the highest crime rate in 2018 of 28.5, but this was significantly lower than the reported crime rate of 37.5 in 2016.
Conviction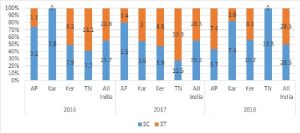 Conviction rates continued to remain poor in the four southern states and were significantly lower than the national conviction rates of 28.5% for crimes against SCs and STs in 2018. Out of the four southern states, Tamil Nadu registered strong growth in conviction rate from 7.7% in 2016 to 13.3% in 2018 for crimes against SCs. However, Tamil Nadu recorded a 0% conviction rate for crimes against STs. This may be explained by the low level of incidence of crimes against STs in Tamil Nadu as in 2016 (11.1%) and 2017 (33.3%), the conviction rate for crimes against STs was significantly high.
Pendency of Cases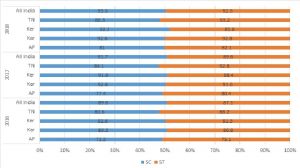 Pendency of cases was the least in Andhra Pradesh among the four Southern States at 72.3% for crimes against SCs and 75% for crimes against STs. The pendency in Karnataka and Kerala remained at around 90% between 2016 and 2018. However, the pendency rate in Tamil Nadu increased by a significant 6 points from around 80% in 2016 to 86% in 2018.
Therefore, we see that not much has changed since 2016. The incidence of crimes, conviction and pendency rates have remained largely constant in the last three years. It would be interesting to see the shifts in these metrics two years from now, given the renewed attention that the PoA Act received with the 2018 decision in Subhash Kashinath Mahajan, the legislative developments thereafter through the Scheduled Castes and Scheduled Tribes (Prevention of Atrocities) Amendment Act, 2018 and the recent decisions of the Supreme Court in 2019 upholding the constitutional validity of the amendment.