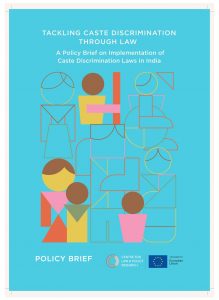 CLPR undertook a study to review the implementation of the laws relating to caste discrimination in India – the Protection of Civil Rights Act, 1955, the Scheduled Castes and Scheduled Tribes (Prevention of Atrocities) Act, 1989 and the Prohibition of Employment as Manual Scavengers and their Rehabilitation Act, 2013. The study focuses on the four Southern states – Karnataka, Andhra Pradesh, Tamil Nadu, and Kerala – and analyses data from the Crime in India report of the National Crime Records Bureau, reports of the Ministry of Social Justice and Empowerment, and case law from High Courts and the Supreme Court of India. The Report titled 'Tackling Caste Discrimination Through Law' is available on our website and we are delighted to share a copy of the Report with you.
Regular audits of the implementation of anti-discrimination laws in India must be conducted as they can help identify hurdles in the implementation of laws and give direction to reform. Our Report is a step in this direction and we hope that it will help deliberate on the way forward on tackling caste discrimination in India.
Please find the Kannada version of the Policy Brief here.