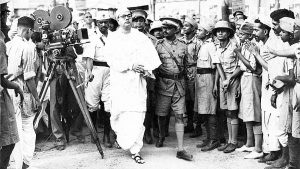 In this article published by The Print, Vineeth Krishna and Sudhir Krishnaswamy discuss the constitutional legacy of Subhas Chandra Bose.
Excerpt from the Article: 
Like M.K. Gandhi, Subhas Chandra Bose was not part of the Constituent Assembly that drafted India's Constitution, but for different reasons. While Gandhi strategically stayed away from the Assembly, Bose had already died in a plane crash. Nevertheless, traces of Bose's personality and ideas are scattered throughout Indian constitutional history.
The 'Miscellaneous' chapter in the original manuscript of the Constitution boasts an impressive sketch of Bose. Predictably, he is in military uniform, leading his Indian National Army (INA) soldiers into battle in mountainous terrain. An excerpt of Bose's famous 1944 radio address ­– 'Father of our Nation, in this holy war for India's liberation, we ask for your blessings and good wishes' –  appears along the sides of the sketch's rectangular frame.
The Bose family had a more direct presence in the Assembly. His younger brother, Sarat Chandra Bose, was elected from Bengal to the Constituent Assembly on a Congress party ticket. However, he hardly participated in the Assembly's proceedings and eventually quit in 1947 protesting the partition of Bengal and Punjab.
There is no particular record of Bose's constitutional imagination unlike B.R. Ambedkar or M.N. Roy who advanced draft constitutional documents like States and Minorities 1947 and Constitution of Free India 1944. No proposal can be traced concretely to Bose. In the Assembly, members invoked Bose primarily praising his contribution to the freedom movement but not to support a concrete constitutional position in the debates.
This Republic Day, as the current government pushes a review of Bose's political legacy, at least in so far as we unearth, we must concede that the sources of his constitutional ideas are scanty.
Bose's constitutional position may be discerned from the sharp differences that arose in the 1930s between him and the Congress leadership. Bose attacked the Congress party's demand for a Constituent Assembly as a 'stunt' and argued that the "seizure of power" must precede the creation of a Constituent Assembly.
By casting the Indian Constitution in the French and American revolutionary mode where the revolution preceded the Constitution, Bose stood outside the mainstream political belief. Indian Constitution framers ambitiously proposed that a Constitution would be the vehicle for social, economic and political revolution – the Constitution came first, the revolution after.