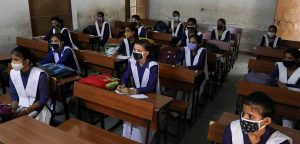 In this article published by The Wire, Ritambhara Singh and Mihir Rajamane  question the Government of India for not implementing the Right to Education Act 2009 and National Education Policy 2020 in the wake of current pandemic.
Excerpt from the Article: 
The Azim Premji Foundation's field study has found that children have lost or forgotten some foundational abilities. For example, 71% of students in Class 2 have lost reading fluency, potentially leading to adverse impacts on future generations.
In Karnataka, the high court is hearing a suo motu PIL (WP 15768/2013) on out-of-school children, in which the Azim Premji Foundation has intervened. During this, the court ordered a household survey to be conducted, which began in December 2020.
While it is not yet complete, the findings are a cause for concern. With less than 90% of the survey complete in rural areas, it was found that 33,344 children had dropped out of school and 9,716 children had never enrolled.
In urban areas, with less than 79% of the survey complete, 8,718 children had dropped out of school and 4,842 children had never enrolled. The figures do not include children living in Bangalore, which is one-sixth of the state's population, since the BBMP (Bruhat Bengaluru Mahanagara Palike) has not been able to find enumerators to conduct the survey.
The Karnataka government has been proactive in making this survey comprehensive by covering all children aged 0-18. It has also gathered information on the reasons children are not going to school, which will be useful in formulating policy responses after the survey is complete.
There is a pressing need to ensure the BBMP allocates the funds necessary to hire survey enumerators so that data to deliver targeted solutions can be collected.  The survey was scheduled to start on August 1, 2021 in Bangalore. If we project the current figures, a conservative estimate would mean at least 78,000 children are out-of-school in Karnataka alone. It is worth noting that even if children are enrolled in school, it does not necessarily mean they are receiving continuous education during the pandemic.