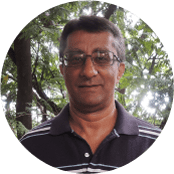 Jeevan Somaiah
Alumni
Jeevan graduated with a BS in Finance from the University of Maryland, College Park, Maryland USA. He completed his MBA from West Texas A&M University, Canyon, Texas, USA.
He has over 12 years of experience as a small business entrepreneur in the United States. He has successfully owned and operated several multi formatted small businesses. He also has extensive corporate experience in finance and operational and strategic planning in the IT, Retail and Oil & Gas industries.
His interests lie in observing and analysing corporate business strategy. He is an avid golf player and automobile racing fan.