Workshop for Lawyers in Telangana on the Prohibition of Employment as Manual Scavengers and their Rehabilitation Act, 2013
Workshop for Lawyers in Telangana on the Prohibition of Employment as Manual Scavengers and their Rehabilitation Act, 2013
Time 10:00 A.M.-1:00 P.M.
Venue Virtual (Zoom)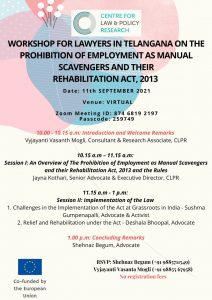 Center for Law and Policy Research (CLPR) is organising an online workshop on the Prohibition of Employment of Manual Scavengers & their Rehabilitation Act 2013 ("PEMSRA") and the Rules under this Act for lawyers in Telangana on September 11th, 2021.
In the course of its efforts in research, public interest lawyering, and advocacy, CLPR has taken various initiatives in the past that have aimed at better implementation of the laws relating to caste discrimination in India, focusing on four Southern states – Karnataka, Andhra Pradesh, Tamil Nadu, and Kerala. Even after the enactment of laws, there is poor implementation of these legislations due to various reasons.
Among the speakers are Jayna Kothari, Senior Advocate, Karnataka High Court, Sushma Gumpenapali, Advocate & Activist, Telangana High Court and Deshala Bhoopal, Advocate, Telangana High Court. Jayna Kothari will be giving overview of the Prohibition of Employment as Manual Scavengers and their Rehabilitation Act, 2013 and the rules under the Act.  Sushma Gumpenapali will be talking about the challenges in the implementation of the Act at the grassroots in India & Deshala Bhoopal will be talking about relief and rehabilitation under the Act.
The objective behind this workshop is to understand the law better, discuss how the High Court orders in cases related to manual scavenging can be better implemented on the ground, and understand the challenges that activists face on the same.
To register for this workshop, click here.
Time 10:00 A.M.-1:00 P.M.
Venue Virtual (Zoom)