Workshop for CSOs in Telangana on 'The Scheduled Caste/Scheduled Tribe (Prevention of Atrocities) Act, 1989'
Workshop for CSOs in Telangana on 'The Scheduled Caste/Scheduled Tribe (Prevention of Atrocities) Act, 1989'
Time 10:00 A.M.-1:00 P.M.
Venue Zoom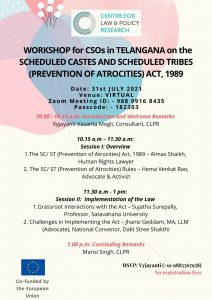 On 31st July 2021, the Centre for Law and Policy Research(CLPR) is organising a legal training workshop for CSOs from Telangana on The Scheduled Castes And Scheduled Tribes (Prevention Of Atrocities) Act and the Rules.
In the course of its efforts in research, public interest lawyering and advocacy, CLPR has recognised that even after enactment, the law is far from being implemented effectively. The endeavours to combat caste-based discrimination have been met with shoddy investigative & prosecutorial practices and high pendency in courts. As a result, conviction rates for caste atrocity offences are low and justice for the victims of atrocities is often delayed or denied. Thus, the objective behind this workshop is to build the legal capacity of civil society organisations and activists working on tackling caste discrimination and increase their engagement with the Scheduled Caste and Scheduled Tribe (Prevention of Atrocities) Act, 1989.
The sessions will focus on identifying the challenges faced by civil society organisations while dealing with caste atrocity cases and on capacity building. We hope that these sessions will help in building a coalition of civil society organisations across four South Indian States – Telangana, Karnataka, Kerala and Tamil Nadu – and build a network of paralegals and barefoot lawyers who can provide basic legal assistance and improve access to justice for vulnerable groups.
Among the speakers are Almas Shaikh, Human Rights Lawyer; Hema Venkat Rao, Advocate & Activist; Professor Sujatha Surepally, Satvahana University and Jhansi Geddam, National Convenor, Dalit Stree Shakthi.
To register for this workshop, click here.
Time 10:00 A.M.-1:00 P.M.
Venue Zoom