Who's on Trial Here? A deep dive into the Tarun Tejpal verdict
Who's on Trial Here? A deep dive into the Tarun Tejpal verdict
Time 6:30 P.M.-8:00 P.M.
Venue Online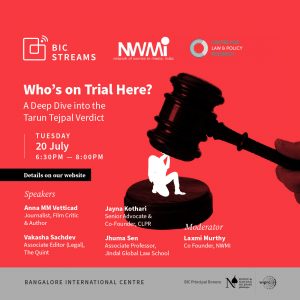 Centre for Law & Policy Research in collaboration with Network of Women in Media, India (NWMI) and Bangalore International Centre(BIC) is organising a panel discussion on the Tarun Tejpal Judgement.
The session will include highlights of a detailed critique of the judgement by the Network of Women in Media, India. The discussion will examine issues of consent, trial processes, data privacy, and also the enduring, ubiquitous gender-based rights violations in Indian newsrooms which have not yet evolved adequate institutional redress.
The judgement  acquitting journalist Tarun Tejpal, handed down by a trial court on 21 May 2021, has far reaching implications for justice in cases of sexual assault in India. State vs Tarunjit Tejpal is one of the first prominent cases to be tried and prosecuted under the Criminal Law Amendment Act, 2013, an outcome of decades of struggle by the country's women's rights movement for an expansion of the legal definitions of the acts that constitute rape and the contexts in which consent is given. In 2013, Tejpal, the Editor-in-Chief of Tehelka magazine, was charged with rape, unlawful confinement and sexual harassment of a young woman journalist, who was his junior colleague.
Unfortunately, in the course of the trial and in the judgement, the provision that persons "in a position of trust or authority" must be held to stricter standards while determining consent was turned on its head, with constant attempts to discredit the survivor as if she were the one on trial. Furthermore, her right to privacy was violated by what amounts to a "digital strip search" even as the harrowing trial prolonged the trauma for more than seven years.
The prominent speakers of the panel discussion are as follows:
Anna MM Vetticad, Journalist, Film critic and author
Jayna Kothari, Senior Advocate and Co-founder, CLPR
Vakasha Sachdev, Associate Editor (Legal), The Quint
Jhuma Sen, Associate Professor, Jindal Global Law School
Laxmi Murthy, Co-founder, NWMI
Please find the registration link here.
For more information, please visit BIC event page.
Time 6:30 P.M.-8:00 P.M.
Venue Online