Transform 2022 Public Panel Discussion
Transform 2022 Public Panel Discussion
Time 5 PM
Venue Xavier's Hall, St. Joseph's Institute of Management
The Centre for Law and Policy Research (CLPR), Bangalore, is organizing a panel discussion titled Transforming Rights: How Law shapes Transgender Lives, Identity, and Community in India, which is being held on 9th December, 2022.
It brings together academics, activists, lawyers, and members of the transgender community, to push new boundaries for a trans-formation of the law. We hope to explore the intersections between the multi-layered complexities of trans lives, law, and community.
The speakers are as below:
Dr. Svati Shah, Associate Professor, Women, Gender & Sexuality Studies, University of Massachusetts, Amherst (UMass) –

Judging Individualism: Reading Supreme Court Decisions and Legal Proposals for Sexuality and Gender Norms in a Shrinking Democracy
Santa Khurai, Manipuri Indigenous Nupi Maanbi Scholar and Activist –

Gaining Full Citizenship Of Manipuri Indigenous Nupi Maanbi And Nupa Maanba

 
Kalki Subramaniam, Founder, Sahodari Organization and Trans Activist –

Implementation of Transgender Rights: Where do we stand with NALSA today?
Moderator: Jayna Kothari, Senior Advocate
Kindly register for the panel discussion here.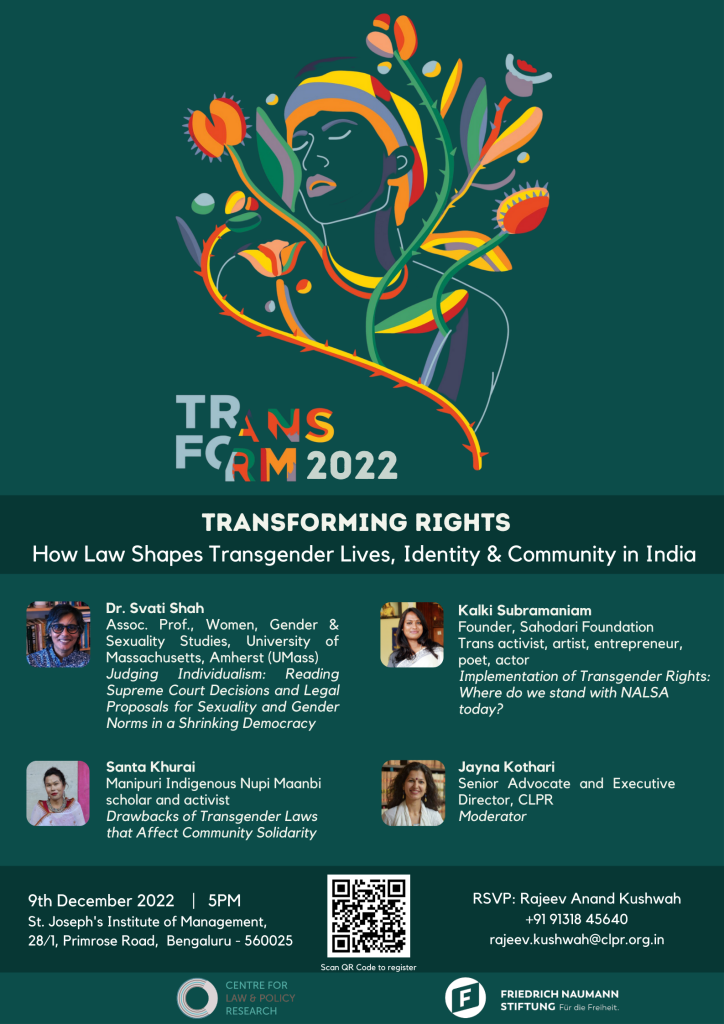 Time 5 PM
Venue Xavier's Hall, St. Joseph's Institute of Management