The Rhetoric of Legal Reforms: Abortion, Gender and the State
The Rhetoric of Legal Reforms: Abortion, Gender and the State
Time 4:00 P.M.-6:00 P.M.
Venue Zoom (Online)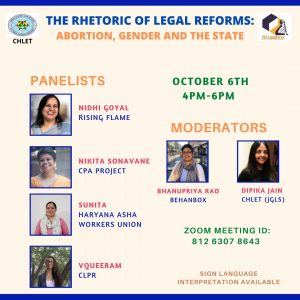 Vqueeram, Research Associate at CLPR is participating in a webinar on "The Rhetoric of Legal Reforms: Abortion, Gender and the State". The webinar is organized by the Centre for Health Law, Ethics and Technology in collaboration with BehanBox.
Abortion continues to be criminalized under Sections 312-318 of the IPC in India, although the Medical Termination of Pregnancy Act, 1971 allows doctors to perform abortions under certain conditions. Recently, the Committee for Criminal Law Reforms set up by the Ministry of Home Affairs at NLUD has proposed decriminalisation of Section 312 of the IPC. Parallelly, the Ministry of Health and Family Welfare has introduced the MTP Amendment Bill which has passed in the Lok Sabha. There are several critical gaps in the Bill and it has been drafted in a doctor-centric, anti-disability, cis-heteropatriarchal framework. The Bill does little to improve access to safe abortion services for pregnant persons and instead strips away their autonomy.
We share the concerns raised by many lawyers, judges, activists, academics, civil society groups, and grassroots activists about the composition and functioning of the Committee. We also believe abortion is a complex issue that requires analyses from multiple nuanced perspectives, and any legal reforms must necessarily involve wide stakeholder consultation. Due to the lack of an effective consultative mechanism both for the Bill and for the law reform proposed by the Committee, these legislative processes have not taken into consideration the various structural barriers to abortion access that exist, especially based on caste, religion, gender, class, disability and marital status.
In light of the recent discussions around this issue, the webinar will discuss and deliberate on challenges of the proposed abortion law reforms. We aim to bring to the fore voices from the margins/ ground, highlight the need for consultation in the law-making process, critically engage with the State and its Gender Justice imagination and to look at the decriminalization of abortion from a nuanced perspective including the Anti Carceral, De-carceral and Abolitionist perspective in the Indian context.
The panel will feature Nidhi Goyal (Rising Flame), Nikita Sonavane (CPA Project), Sunita (Haryana ASHA Workers Union), and Vqueeram (Centre for Law and Policy Research).
Sign Language Interpretation will also be available.
Zoom Link here: https://us02web.zoom.us/j/81263078643
Time 4:00 P.M.-6:00 P.M.
Venue Zoom (Online)