Tackling Caste Discrimination through Law: Ernakulam Talks
Tackling Caste Discrimination through Law: Ernakulam Talks
Time 9:30 A.M.-4:30 P.M.
Venue M.K. Damodaran Memorial Hall, Golden Jubilee Chamber Complex, Kerala High Court Advocates Association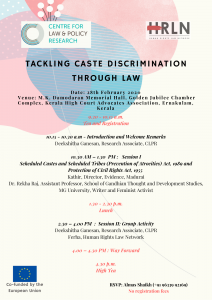 In the course of its efforts in research, public interest lawyering and advocacy, the Centre for Law and Policy Research, Bengaluru (CLPR) has recognised that even after enactment of laws to combat caste-based discrimination, shoddy investigative and prosecutorial practices and high pendency in courts are among the chief causes for the poor implementation of these legislations. As a result, conviction rates for caste atrocity offences are low and justice for the victims of atrocities are often delayed or denied. Therefore, the objective behind this workshop is to build the legal capacity of civil society organisations and activists working on tackling caste discrimination and increase their engagement with the laws relating to caste discrimination in India.
The sessions will focus on identifying the challenges faced by civil society organisations while dealing with caste atrocity cases and on capacity building through focused sessions on the Scheduled Castes and Scheduled Tribes (Prevention of Atrocities) Act, 1989 and the Protection of Civil Rights Act, 1955.   We hope that these sessions will help in building a coalition of civil society organisations across four South Indian States – Andhra Pradesh, Karnataka, Kerala and Tamil Nadu – and build a network of paralegals and barefoot lawyers who can provide basic legal assistance and improve access to justice for vulnerable groups.
Time 9:30 A.M.-4:30 P.M.
Venue M.K. Damodaran Memorial Hall, Golden Jubilee Chamber Complex, Kerala High Court Advocates Association