Supreme Court by Numbers: Making the Court Work for Us | SC Observer
Supreme Court by Numbers: Making the Court Work for Us | SC Observer
Time 5.00 PM to 7.00 PM
Venue Bangalore International Centre (New Building), Seminar Hall 1 - Bengaluru, 560071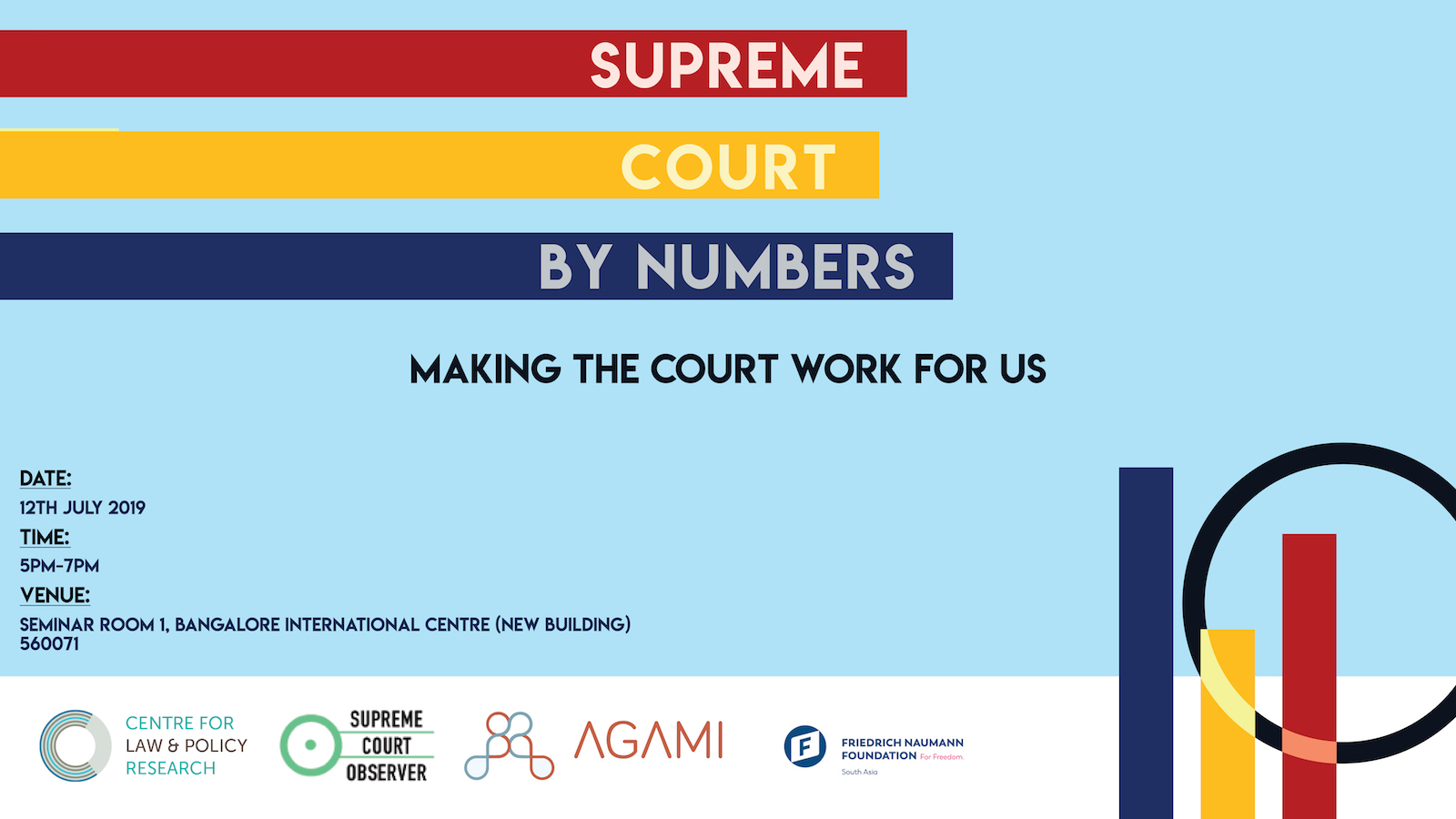 If you wish to attend, kindly RSVP here
The Supreme Court undoubtedly shapes Indian public life, yet the popular understanding of it remains poor. Most discourse on the court is anecdotal – individual judgments are analysed, a few days of oral arguments are reported on. While there is value in analysing individual cases, the court demands a more macrolevel understanding through data. 
The SC Observer bridges this gap with the Statistics Pack 2018. The Stat Pack compiles, analyses and presents a data overview of the Supreme Court of India. Focusing on key parameters, it provides insights into the court's caseload. The Stat Pack lays the groundwork for further study and judicial reform.
SPEAKERS
Aparna Chandra is an Assistant Professor of Law and Research Director, Centre for Constitutional Law, Policy and Governance at the National Law University, Delhi. Part of her wide-range of on-going research includes an empirical study of Indian Supreme Court decisions, funded by the University of Chicago.
Arun Thiruvengadam is a Professor of Law and Development at Azim Premji University. He is most known for his research in constitutional law and is the author of The Constitution of India: A Contextual Analysis. Prior to entering academia, he practiced law before the High Courts of Madras, Delhi and the Supreme Court.
Gaurav Godhwani is the Co-founder and Director of CivicDataLab, whose aim is to use data to strengthen civic engagement. Previously, he worked at the Centre for Budget and Governance Accountability, where he lead the development of Open Budgets India.
Jai Brunner is a Research Associate at the Centre for Law and Policy Research, where he works as an editor and researcher for the Supreme Court Observer. He is the Primary Contributor to the Statistics Pack 2018.
SCHEDULE
5.00 to 5.15 pm

Registration + Tea/Coffee

5.15 to 5.30 pm

Presentation:

Jai Brunner presents the key findings of the Stat Pack 2018

 

5.30 to 6.15 pm

Panel Discussion:

Aparna Chandra, Arun Thiruvengadam and Gaurav Godhwani respond to the Stat Pack and suggest avenues of further research and judicial reform

 

6.15 to 6.45 pm

Question & Answer Session
Time 5.00 PM to 7.00 PM
Venue Bangalore International Centre (New Building), Seminar Hall 1 - Bengaluru, 560071