Re-Imagining the Constitution for our times – Equality, Values, Rights, Citizenship
Re-Imagining the Constitution for our times – Equality, Values, Rights, Citizenship
Time 4:00 P.M.-7:00 P.M.
Venue Zoom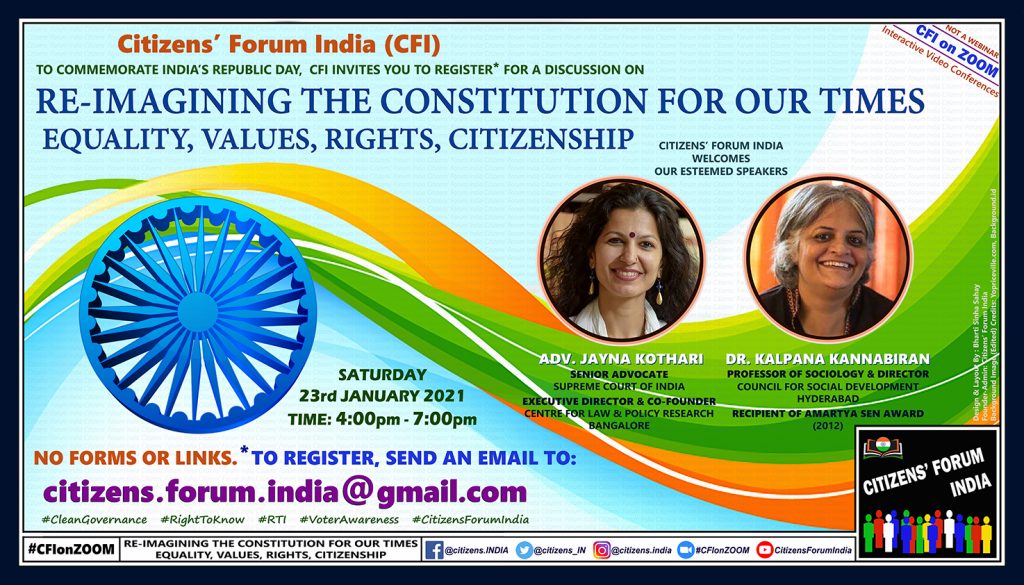 CITIZENS' FORUM INDIA (CFI) is organising an interactive video conference – CFIonZOOM on January 23rd to commemorate the Republic Day. Please find the details about the panellists below:
DR. KALPANA KANNABIRAN
Professor of Sociology and Director
Council for Social Development (CSD)
Hyderabad
& Recipient of Amartya Sen Award for Distinguished Social Scientists (2012)
ADV. JAYNA KOTHARI
Senior Advocate
Supreme Court of India
& Executive Director and Co-Founder
Centre for Law & Policy Research (CLPR)
Bangalore
The meeting includes direct interactions / Q&As subsequent to the presentations.
There are no registration fees. However, individual registration is mandatory to enable a secure interactive video conference.
Kindly request interested students, associates and colleagues to register for our interactive video conferences by sending an email to this address:
Time 4:00 P.M.-7:00 P.M.
Venue Zoom