Panel Discussion on Decoding the Uniform Civil Code
Panel Discussion on Decoding the Uniform Civil Code
Time 05:00 pm - 06:30 pm
Venue Centre for Law & Policy Research D6, Dona Cynthia Apartments, 35, Primrose Road, Ashok Nagar, Bengaluru – 560025, India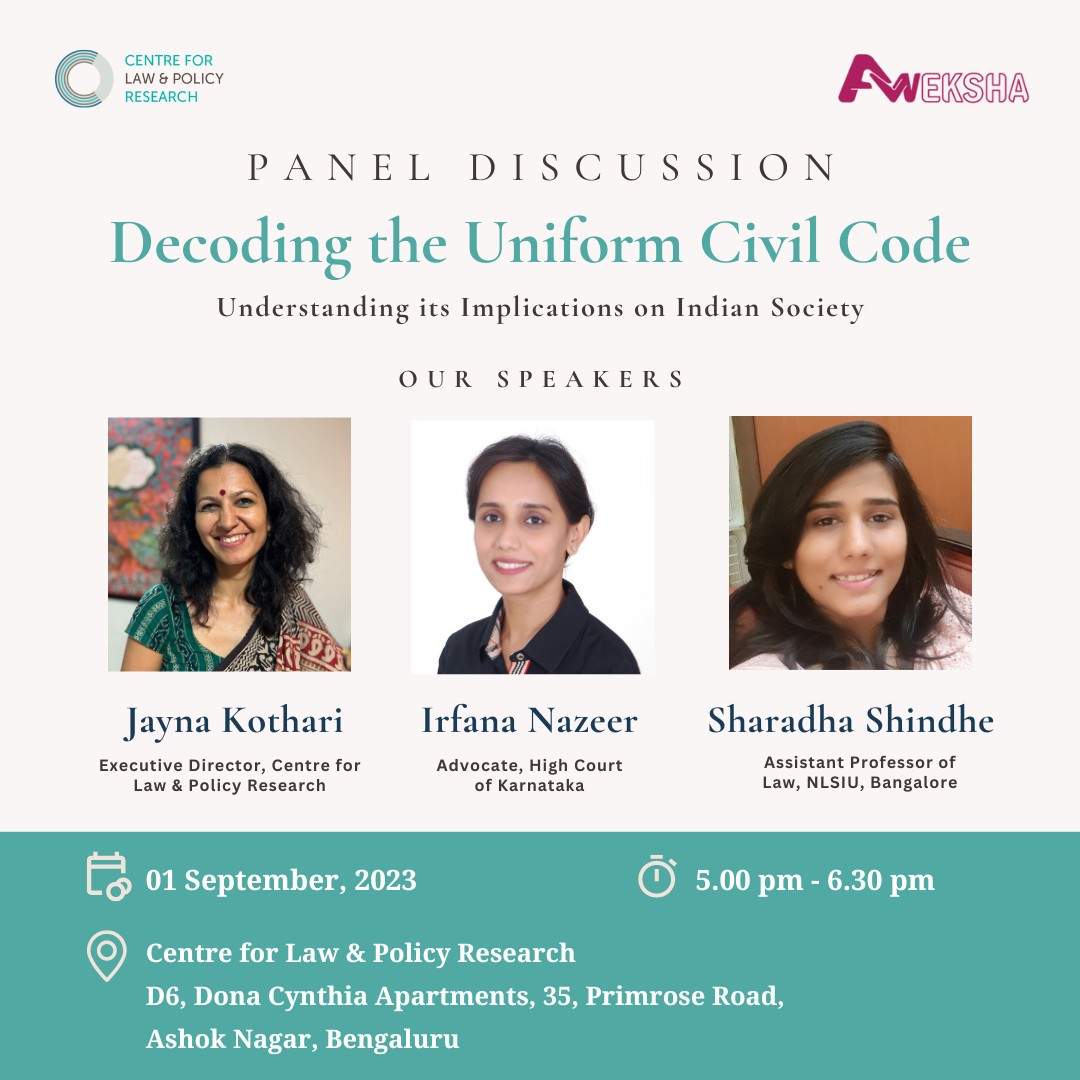 The Centre for Law and Policy Research invites you to a panel discussion on Decoding the Uniform Civil Code: Understanding its Implications on Indian Society.
When:
Friday, September 01 from 5:00 p.m. – 6:30 p.m. IST.
About the discussion:
The Uniform Civil Code has been a topic of intense debate, with numerous opinions, beliefs, and perspectives emerging from different quarters. This panel discussion aims to delve deep into the nuances and layers of the subject, shedding light on the possible ramifications, challenges, and opportunities it presents.
Meet the Panelists:
1. Jayna Kothari
Jayna is a co-founder of CLPR. She is a Senior Advocate and practices in the Supreme Court of India. She graduated from University Law College with a B.A. LL.B degree and read the BCL at Oxford University. Jayna was awarded the Wrangler D.C. Pavate Fellowship in Cambridge University.
2. Irfana Nazeer
Irfana graduated with a B.A. LL.B from Bangalore University, having studied at M.S.Ramaiah College of Law. She practices civil, writ, and criminal law in Bangalore and Delhi.
3. Sharadha Shindhe
Sharada R. Shindhe graduated from the University College of Law, Dharwad, and practiced law in Karnataka's High Court for a year. She later earned her LL.M. from the National Law School of India University, Bangalore and became an Assistant Professor in 2021. Honored with the Dr D.C. Pavate Memorial Fellowship at Cambridge University, she has written numerous articles and given lectures on various legal topics. She currently teaches Family Laws and ADRs at NLSIU, focusing her research on arbitration.
The event is open to all!
Note: Participation for this event is in-person at the venue mentioned in the poster. To register, please click HERE! 
Time 05:00 pm - 06:30 pm
Venue Centre for Law & Policy Research D6, Dona Cynthia Apartments, 35, Primrose Road, Ashok Nagar, Bengaluru – 560025, India