NCS|Prisoners & The Pandemic: Health, Safety & The Constitution
NCS|Prisoners & The Pandemic: Health, Safety & The Constitution
Time 11:30 A.M.-12:30 P.M.
Venue Online (Webinar)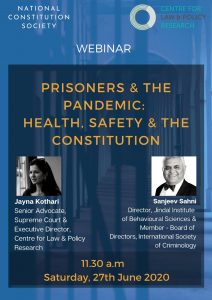 The Centre for Law & Policy Research (CLPR) and the National Constitution Society (NCS) are organizing a webinar on 'Prisoners & the Pandemic: Health, Safety & the Constitution'.
The webinar will take place on 27th June 2020 (Saturday) from 11.30 a.m. – 12.15 p.m.
The NCS is a network of student Constitution Societies across India that aims to create, celebrate and practice India's constitutional values.
About the Webinar
Indian prisons have become hotbeds of COVID-19. The insanitary and overcrowded conditions have put prisoners specially at risk, resulting in wide-scale release or bail for thousands of prisoners. This webinar will address the multitude of questions that have arisen as a result of COVID-19: What are the constitutional rights of prisoners in relation to their health, safety, and dignity? Does the release program give us scope to advocate for bail reform? How do we effectively implement interim bail and early release?
Speakers
Jayna Kothari is a Senior Advocate at the Supreme Court of India, and the Executive Director of CLPR. In addition to her work in constitutional and human rights litigation, she has co-authored a report advocating for the reformation of the bail system.
Dr. Sanjeev Sahni is the head of the Jindal Institute of Behavioural Sciences and a member of the Board of Directors of the International Society of Criminology. He is a distinguished psychologist who has advocated for the release of undertrial prisoners during the pandemic.
The webinar will be moderated by Ms. Wardah Beg, Board Member of the National Constitution Society, and Ms. Madhavi Gopalakrishnan, Research Associate at CLPR.
Registration:
Please register by clicking this link: bit.ly/2NgM1F0
For any clarifications, please contact Madhavi Gopalakrishnan on madhavi.gopalakrishnan@clpr.org.in
Time 11:30 A.M.-12:30 P.M.
Venue Online (Webinar)