Lawyers' Workshop On The Scheduled Castes And Scheduled Tribes (Prevention Of Atrocities) Act, 1989
Lawyers' Workshop On The Scheduled Castes And Scheduled Tribes (Prevention Of Atrocities) Act, 1989
Time 10:00 A.M. - 1:00 P.M.
Venue Zoom Meeting ID: 94302819921 Passcode: 973055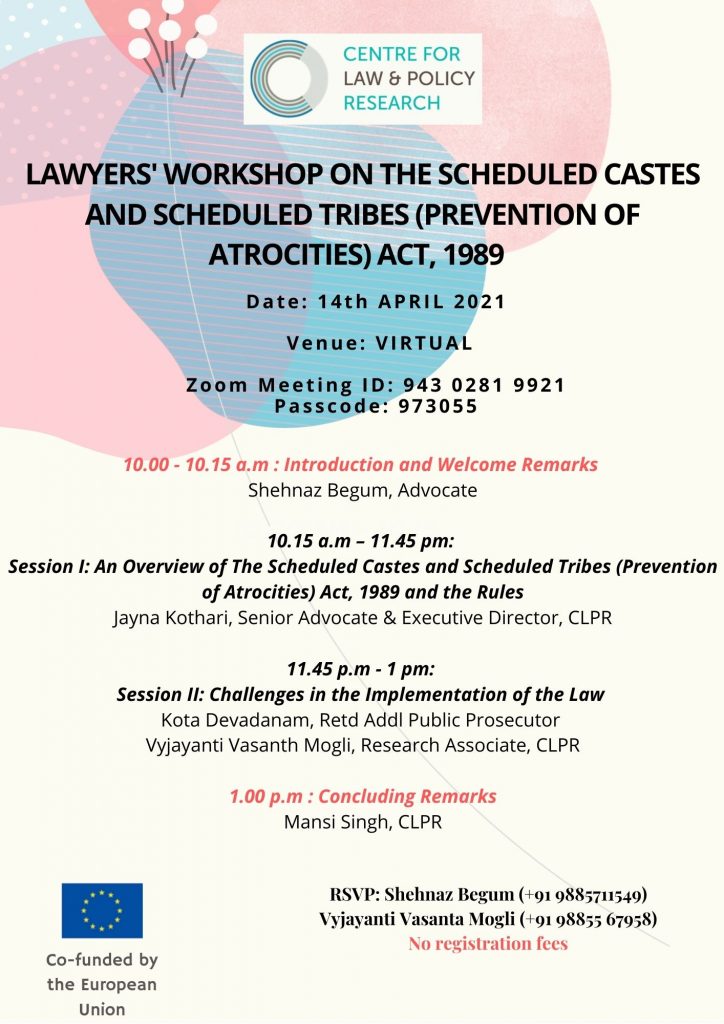 On 14th April 2021, CLPR is organising a workshop for lawyers on The Scheduled Castes And Scheduled Tribes (Prevention Of Atrocities) Act, 1989 and the Rules under this Act.
In the course of its efforts in research, public interest lawyering, and advocacy, CLPR has taken various initiatives in the past that have aimed at better implementation of the laws relating to caste discrimination in India, focusing on four Southern states – Karnataka, Andhra Pradesh, Tamil Nadu, and Kerala. Even after the enactment of laws, there is poor implementation of these legislations. Among the speakers is Jayna Kothari, Senior Advocate, Karnataka High Court and Executive Director, CLPR. Kota Devadanam is a Retired Additional Public Prosecutor, well-known for fighting cases on caste-discrimination laws in Telangana. Vyjayanti Vasanth Mogli is a Research Associate at CLPR and Transgender RTI Activist.
The objective behind this workshop is to understand the law better, discuss how the High Court orders in cases of caste-discrimination laws can be better implemented on the ground, and understand the challenges that activists face on the same.
Zoom Meeting Link: https://zoom.us/j/94302819921?pwd=QUVUb2p1NCsyUXJnTWJJMmhWNFlUdz09
Time 10:00 A.M. - 1:00 P.M.
Venue Zoom Meeting ID: 94302819921 Passcode: 973055