Free workshop & Panel Discussion on Manual Scavenging | 26th September 2020
Free workshop & Panel Discussion on Manual Scavenging | 26th September 2020
Time 6:30 P.M. onwards
Venue Online (Live Stream on YouTube )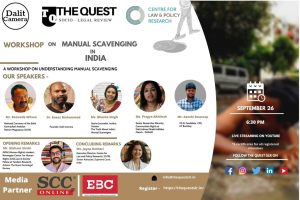 In order to create awareness and understanding towards this issue, The Quest Sociolegal Review in collaboration with the Centre for Law and Policy Research and Dalit Camera presents a workshop on Manual Scavenging.
Jayna Kothari, Senior Advocate & Executive Director at the Center for Law and Policy Research will be giving concluding remarks in this workshop.
Guestlist for the event –
Mr Nishant Sirohi (Tandem Research Fellow) – Opening Remarks
Mr Bezwada Wilson (President Safai Karamchari Andolan and Ramon Magsaysay awardee)
Dr Raees Muhammed (Founder Dalit Camera)
Ms Bhasha Singh (Senior Journalist, author of Unseen)
Ms Pragya Akhilesh (Senior Researcher, Minority Communities Rights)
Mr Kanthi Swaroop (PhD candidate at CPS, IIT Bombay)
Ms Jayna Kothari (Executive Director CLPR, Senior Advocate) – Concluding Remarks
All the registered participants will be provided with reading material and e-certificates.
Find the more info and registration link here.
Time 6:30 P.M. onwards
Venue Online (Live Stream on YouTube )