Expert Consultation on the Need for an Equality Law in India & Strategies for Legal Advocacy
Expert Consultation on the Need for an Equality Law in India & Strategies for Legal Advocacy
Time 4:30 P.M. onwards
Venue Bangalore International Centre (New Building) No. 7, 4th Main Rd, Stage 2, Domlur, Bengaluru, Karnataka 560071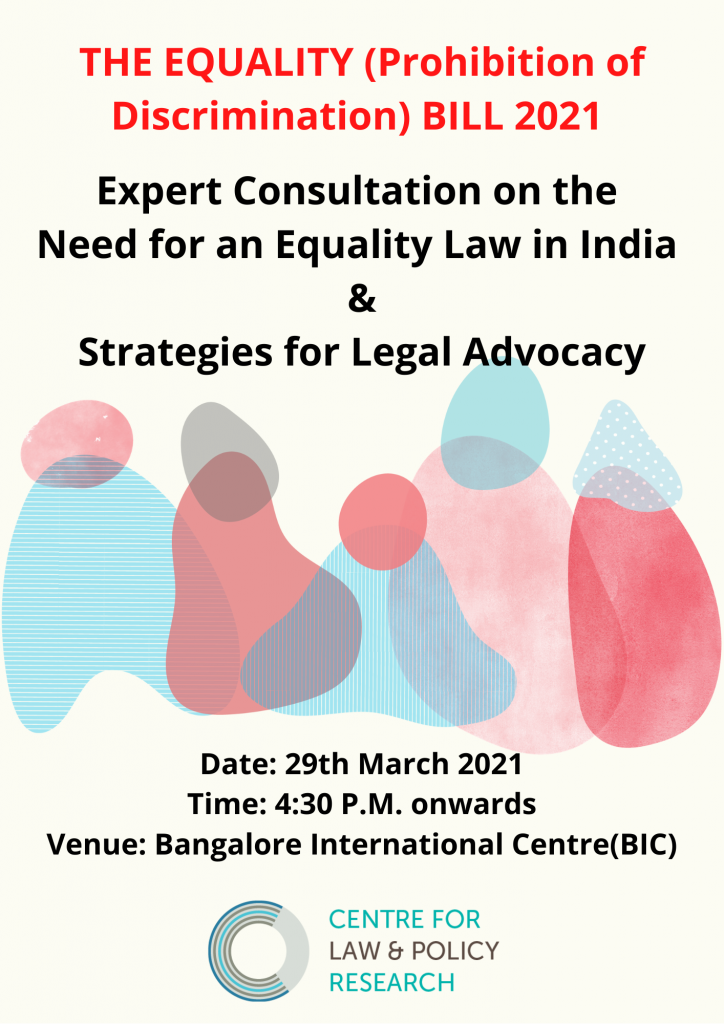 On 29th March 2021, CLPR in collaboration with Equal Rights Trust is organising an "Expert Consultation on the Need for an Equality Law in India & Strategies for Legal Advocacy"
Despite having equality guarantees under the Constitution and other legislation, many marginalized groups and persons face severe discrimination in India. Several identities are not included within the Constitutional equality guarantee. Existing legislation on caste, disability and gender do not address discrimination in the private sector, do not provide civil remedies adequately, nor do they address intersectional discrimination.
Learning from previous efforts to draft anti-discrimination legislation in India, CLPR's draft Equality Bill (Prohibition of Discrimination) 2021 takes a new step in addressing discrimination experienced by people on the basis of caste, gender, religion, transgender and intersex identity, disability and other grounds. It aims to promote equality, prohibit different types of discriminatory conduct, provide adequate civil remedies and set up a redressal that is accessible and effective in addressing discrimination.
Through this consultation, we hope to get critical feedback on the text of the Equality Bill and how to create strategies for legal advocacy.
DATE: 29th March
TIME: 4:30 PM onwards
VENUE: Bangalore International Center (BIC)
Time 4:30 P.M. onwards
Venue Bangalore International Centre (New Building) No. 7, 4th Main Rd, Stage 2, Domlur, Bengaluru, Karnataka 560071