Ethics in AI Talk Series: Information Regulation, Artificial Intelligence and Governance
Ethics in AI Talk Series: Information Regulation, Artificial Intelligence and Governance
Time 4:30 P.M.-5:45 P.M.
Venue Online (https://bit.ly/2U60V7Y)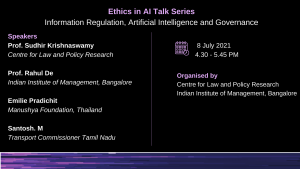 The Centre for Law and Policy Research and the Indian Institute of Management, Bangalore are organising Ethics in AI Talk Series: A Conversation on Information Regulation, Artificial Intelligence, and Governance. The webinar will take place on 8th July 2021 between 4.30 to 5.45 PM.
This webinar will summarise research from CLPR's project on the 'Public Law of Information in India' and IIMB's project on 'AI and Ethics of Personhood'. 
The Philosophy and Law of Information Regulation in India 
CLPR's project aimed at exploring the distinct practices, theories, and foundations for the law and philosophy of information regulation in India, in a way that could inform information regulation and practice.
Under this project, CLPR has generated four outputs towards this aim:
1. We have brought together a diverse and multi-disciplinary range of scholars and practitioners to contribute to an open-access publication titled 'The Philosophy and Law of Information Regulation in India', which incorporates perspectives from constitutional law, international law, competition law, media theory, and sociology.
2. We conducted a two-day workshop on 'The Philosophy and Law of Information Regulation in India', which brought together contributors for the publication, as well as respondents from various disciplines.  The workshop was an attempt to forge new pathways and collaborations for research, scholarship, and practice which can inform the law and regulation of information in India, with specific reference to the institutions of public law in India.
3. We have recorded a series of podcasts intended to accompany the contributions from the open-access publication, exploring and contextualising the perspectives of contributors in light of ongoing debates on information regulation in India.
4. We have published a series of blog posts on various contemporary issues on the philosophy and law of information regulation in India, intended to contribute to the public and scholarly debate on these issues.
In this webinar, Prof. Sudhir Krishnaswamy will summarise the results and findings from our own research, as well as the research and findings from the workshop and the forthcoming publication.
AI and Ethics of Personhood 
IIMB's research is concerned with the ethical concerns arising from the use of AI. A study of ethical concerns needs to be informed by an understanding of the capabilities of the information system under consideration. The capabilities of AI systems seem to be different from traditional information systems with regards to their ability to act autonomously or like humans. There are variations in capabilities even among AI systems. Further, AI systems' capabilities are different from those of humans because they do not have a conscious experience of the phenomenon. However, there is not enough clarity on the similarities and differences between the capabilities of humans, traditional information systems, and AI. Hence, this project theorises the differences in their capability to act. And devise a method to "measure" the capabilities and use this to understand the ethical concerns. This project goes beyond the typical ethical concerns that focus on the virtue or consequences of using AI. And focus on the ethical concerns that arise from the perspective of being human by framing an 'ethics of personhood' lens. Prof. Rahul De will summarise the findings of this project.
To attend this webinar, please register here.   
Time 4:30 P.M.-5:45 P.M.
Venue Online (https://bit.ly/2U60V7Y)