Constitution Day Campaign | Kozhikode| Mock Parliament
Constitution Day Campaign | Kozhikode| Mock Parliament
Time 2 pm - 5 pm
Venue Kozhikode
A Mock Parliament session was held at St. Xavier's Arts and Science College, Kozhikode. Over 25 students participated in the session, in front of an audience of around 80 students. The event was inaugurated by the District Development Commissioner, Ms. Madhavikutty M S. She encouraged the students to go beyond a textbook understanding of parliamentary democracy, and to engage with it in a deeper and more meaningful way. 
Participants came from a number of colleges, including the hosts St. Xavier's Arts and Science College, Government Law College, AWH Special College, St. Joseph's College and Government College Perambra. The students acted out the various legislative and non-legislative functions conducted in Lok Sabha. These included procedures and devices like Question Hour, Zero Hour and Obituary Reference. The centrepiece was the discussion on an 'Anti-Fake News Bill', presented by the Minister of Information and Broadcasting. Opposition members grilled the government for its poor performance and insincerity, but the bill was passed easily with a strong majority. 
Read the transcript of the session here, and the Anti-Fake News Bill here, both prepared by the ConstitutionofIndia.net team.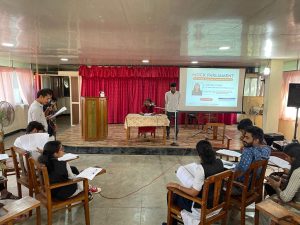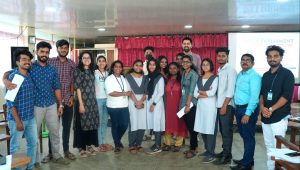 Time 2 pm - 5 pm
Venue Kozhikode