Coffee And Conversations | Student Discussion on the Equality Bill 2019
Coffee And Conversations | Student Discussion on the Equality Bill 2019
Time 5:00 - 7:00 PM
Venue Centre for Law and Policy Research, D6, Dona Cynthia Apartments, 35, Primrose Road, Craig Park Layout, Ashok Nagar, Bengaluru, Karnataka 560025
CLPR is hosting a students' "Coffee and Conversations" evening on 26th June, 2019, (Wednesday). The topic for this evening's exciting discussion is the Equality Bill, 2019 drafted by CLPR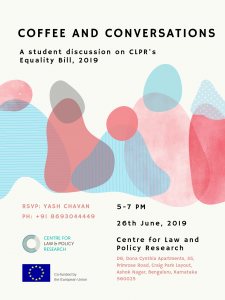 The Equality Bill, 2019 is aimed at promoting equality and addressing different forms of discrimination, including intersectional and systemic discrimination, experienced by those at the margins. It recognizes the need to protect marginalized identities and protects persons on the grounds such as caste, disability, gender identity, sexual orientation and socio-economic status. The Bill makes special provisions for prohibiting discrimination and promoting equality in specific areas including education, employment, healthcare and housing. Both state and private actors are obligated to perform functions of promoting equality under this Bill. Notably, the draft Equality Bill, 2019 provides civil remedies for discrimination and additional remedies for those experiencing intersectional discrimination. Finally, the Bill seeks to establish responsive institutions that remedy discrimination. The Bill is available to read here.
If you want to find out more about the Equality Bill 2019, have the chance to critique it, share your views and give your feedback, join us at:
Venue: Centre for Law and Policy Research, D6, Dona Cynthia Apartments, 35, Primrose Road, Craig Park Layout, Ashok Nagar, Bengaluru, Karnataka 560025

Date: 26th June 2019 (Wednesday)
Time: 5 to 7 PM (registration and coffee starts from 4.30 pm onwards)
Please register yourself for this discussion using this link.
Time 5:00 - 7:00 PM
Venue Centre for Law and Policy Research, D6, Dona Cynthia Apartments, 35, Primrose Road, Craig Park Layout, Ashok Nagar, Bengaluru, Karnataka 560025