CLPR Talks: Understanding Global Perspectives on Caste-Based Discrimination
CLPR Talks: Understanding Global Perspectives on Caste-Based Discrimination
Time 5 pm onwards
Venue Centre for Law & Policy Research D6, Dona Cynthia Apartments, 35, Primrose Road, Ashok Nagar Bengaluru – 560025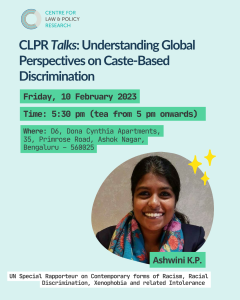 CLPR cordially invites you to it's second CLPR Talks event!
On 10 February, 2023, meet with Ashwini K.P., UN Special Rapporteur on Contemporary forms of Racism, Racial Discrimination, Xenophobia, and related Intolerance and co-founder of Zariya: Women's Alliance for Dignity and Equality. She will be talking about caste discrimination concerning UN mechanisms and providing a broader perspective of the same.
Ashwini KP is an accomplished academic and activist with a strong focus on policies related to marginalized communities. She holds a Bachelor's degree from Mount Carmel College, a Master's in Political Science from St. Joseph's College, and a Ph.D. in South Asian Studies from Jawaharlal Nehru University. She has served as an assistant professor at both St. Joseph's College and Mount Carmel. As a visiting fellow at Stanford University, Ashwini has focused her research and activism on issues such as social exclusion and discrimination in South Asia, particularly for Dalit women. Her goal is to empower marginalized communities through education and decision-making roles in activism.
The talk is open to all. To register your interest in attending the talk in-person, please fill out the registration form!
We will also be broadcasting the talk live, on our Instagram profile on the day.
Time 5 pm onwards
Venue Centre for Law & Policy Research D6, Dona Cynthia Apartments, 35, Primrose Road, Ashok Nagar Bengaluru – 560025