CLPR Talks: Human Rights, Accountability and the Role of International Financial Institutions
CLPR Talks: Human Rights, Accountability and the Role of International Financial Institutions
Time 5:00 pm onwards
Venue Centre for Law & Policy Research D6, Dona Cynthia Apartments, 35, Primrose Road, Ashok Nagar, Bengaluru – 560025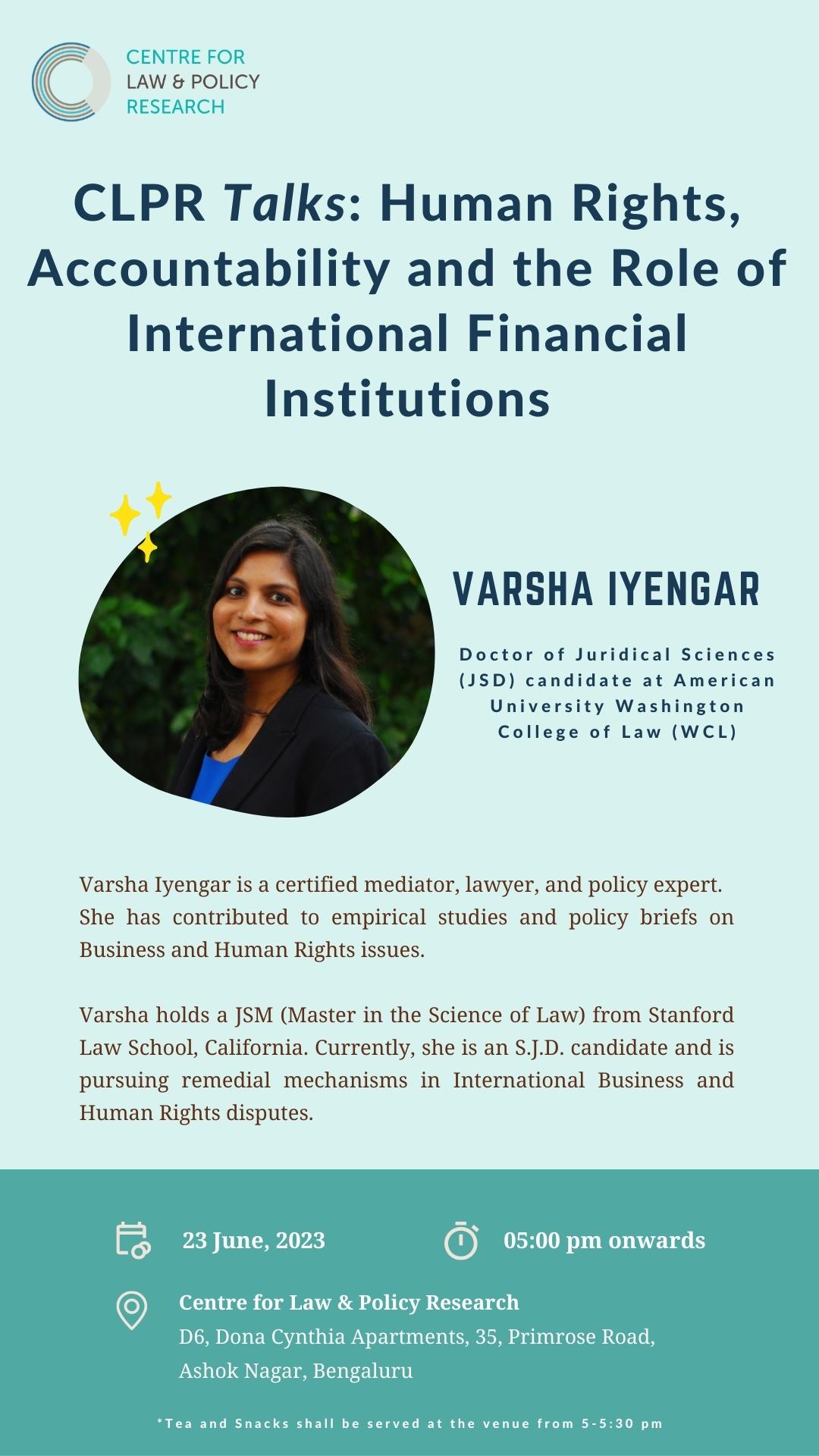 CLPR cordially invites you to it's third CLPR Talks event!
On 23 June, 2023, meet with Varsha Iyengar, Doctor of Juridical Sciences (JSD) candidate at American University Washington College of Law (WCL). She will be talking about her research on remedial mechanisms within the intersection between International Business and Human Rights disputes. 
Varsha Iyengar is a certified mediator, lawyer, and policy expert who specializes in dispute resolution in India. She has had the privilege of practicing before the High Court of Karnataka and the Supreme Court of India, and was a founding partner at Arka Law in Bangalore. Her practice areas included commercial and real estate disputes, and high-impact litigation on behalf of children and persons with disabilities for their right to health and quality education.
In addition to her legal expertise, Varsha has contributed to empirical studies and policy briefs on Business and Human Rights issues. She was involved in drafting the Karnataka State Dispute Resolution Policy and has researched the impact of legal regulation on the global supply chain during Covid-19, as well as the impact of tobacco control regulation on public health in India.
Varsha holds a JSM (Master in the Science of Law) from Stanford Law School, California, where she was awarded a SPILS Scholarship. Currently, as an S. J. D. candidate, she is exploring remedial mechanisms in International Business and Human Rights disputes.
The talk is open to all. To register your interest in attending the talk in-person, please fill out this registration form!
Time 5:00 pm onwards
Venue Centre for Law & Policy Research D6, Dona Cynthia Apartments, 35, Primrose Road, Ashok Nagar, Bengaluru – 560025