CLPR Talks: A Critical Analysis of the Mediation Bill 2021
CLPR Talks: A Critical Analysis of the Mediation Bill 2021
Time 5 pm onwards
Venue D6, Dona Cynthia Apartments, 35, Primrose Road, Ashok Nagar, Bengaluru – 560025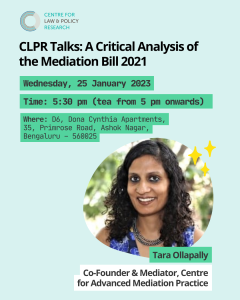 CLPR is excited to bring you it's first CLPR Talks event of the year!
On 25 January, 2023, meet with Tara Ollapally, Co-Founder & Mediator, Centre for Advanced Mediation Practice, one of India's leading and pioneering private mediation institutions. She will be talking about mediation and will provide a critical analysis of the Mediation Bill of 2021.
Tara trains lawyers and mediators as part of the CAMP – Edwards Mediation Academy partnership and also leads multiple collaborations with the government, international institutions and domestic partners to make mediation a part of the dispute resolution landscape in India. She was a participant in the Mediating Disputes program at Harvard Law School in 2015. She has also trained with Bangalore Mediation Centre (court annexed mediation program of the Karnataka High Court), JAMS, Edwards Mediation Academy and Centre for Dispute Resolution. Tara is licensed to practice law in New York and Bangalore, India.
The talk is open to all!
Time 5 pm onwards
Venue D6, Dona Cynthia Apartments, 35, Primrose Road, Ashok Nagar, Bengaluru – 560025