CLPR | Film Screening & Discussion | The Advocate
CLPR | Film Screening & Discussion | The Advocate
Time 2.00 PM to 4.00 PM
Venue Centre for Law and Policy Research Dona Cynthia Apartments, 35, Primrose Road Ashok Nagar Bengaluru - 560025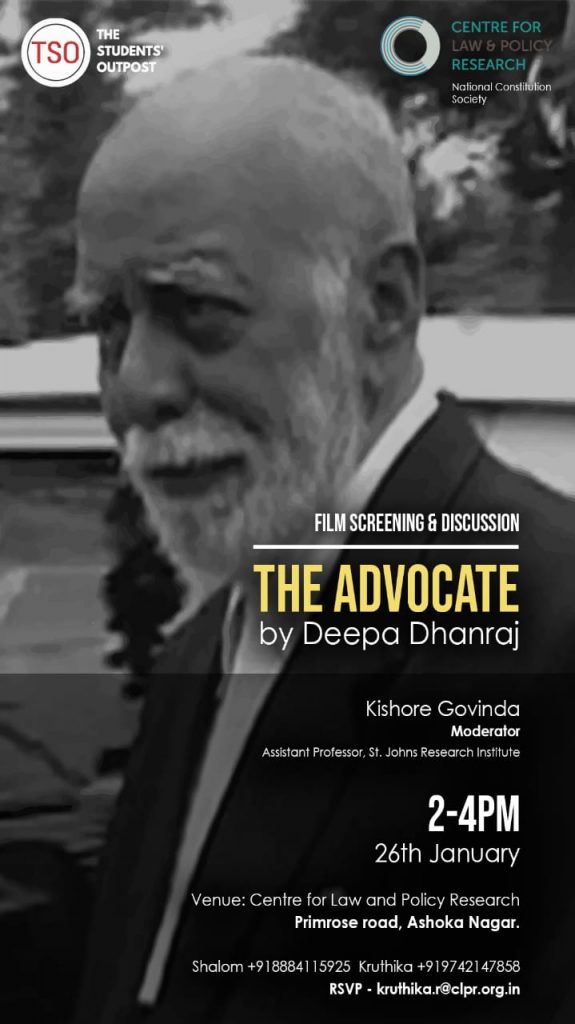 On Republic Day 2019, the Centre for Law and Policy Research in association with The Students' Outpost will host a film screening and discussion of "The Advocate", directed by Deepa Dhanraj. The film documents "the remarkable contribution of KG Kannabiran in challenging the Indian State to uphold the rule of law in institutions of governance, justice and political praxis" (Magic Lantern Films).
KG Kannabiran co-founded the People's Union for Civil Liberties. He is renowned for representing the human rights of political dissidents and prisoners.
The film screening will be followed by a discussion led by Kishor Govinda, Assistant Professor, St. Johns Research Institute, Bangalore. Kishor is an academic and a human rights activist who works in the areas of gender justice, mental health, labour issues and civil liberties.
Time 2.00 PM to 4.00 PM
Venue Centre for Law and Policy Research Dona Cynthia Apartments, 35, Primrose Road Ashok Nagar Bengaluru - 560025