#Born with Pride: The rights of transgender people in India
#Born with Pride: The rights of transgender people in India
Time 17:00-18:00 Hours (UTC +5:30)
Venue Webex (Online)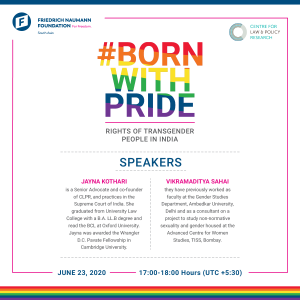 The Centre for Law and Policy Research is participating in FNF South Asia's first online session #BornwithPride: The rights of transgender people in India on 23rd June 2020, 1700 Hours (UTC+5:30).
These sessions would throw light on the issues that the LGBTQ+ community is facing in South Asia. The first session would deal with the legal developments on transgender rights in India and the issues of The Transgender Persons (Protection of Rights), act 2020.
The speakers of our event are :
Jayna Kothari is a Senior Advocate and co-founder of CLPR, and practices in the Supreme Court of India. She graduated from University Law College with a B.A. LL.B degree and read the BCL at Oxford University. Jayna was awarded the Wrangler D.C. Pavate Fellowship in Cambridge University.
Vikramaditya Sahai they have previously worked as faculty at the Gender Studies Department, Ambedkar University, Delhi and as a consultant on a project to study non-normative sexuality and gender housed at the Advanced Centre for Women Studies, TISS, Bombay.
Please register here for the event.
Time 17:00-18:00 Hours (UTC +5:30)
Venue Webex (Online)