Berkeley Center on Comparative Equality & Anti-discrimination Law 9th Annual Conference 2022
Berkeley Center on Comparative Equality & Anti-discrimination Law 9th Annual Conference 2022
Time 9:45-10:45 AM IST
Venue Zoom
Berkeley Center on Comparative Equality & Anti-discrimination Law is conducting the 9th Annual Conference 2022, Comparative Equality Law in a Post-Pandemic World, on 22-24 June 2022. Jayna Kothari will be the keynote speaker on "New Directions for Equality in a Post Covid World" at 9:45-10:45 AM IST on 22 June 2022. 
The conference will be hosted by the University of Hong Kong, Faculty of Law, the Centre for Comparative and Public Law, the Human Rights Hub, and the Equality Rights Project.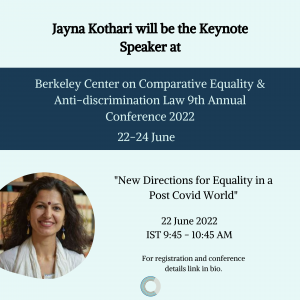 Please find the registration and conference details here.
Date: 22 June 2022
Time: 9:45-10:45 AM IST
Venue: Zoom
Time 9:45-10:45 AM IST
Venue Zoom