Bergen Exchanges on Law and Social Transformation 2022
Bergen Exchanges on Law and Social Transformation 2022
Time 6:30 PM to 7:30 PM
Venue Zoom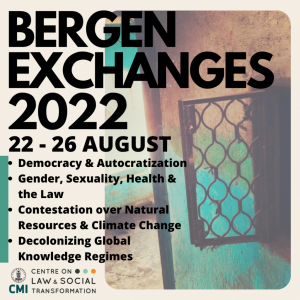 Jayna Kothari, Senior Advocate & Executive Director at CLPR, will be a speaker at Bergen Exchanges on Law and Social Transformation 2022, scheduled on 22nd to 26th August. The event is being organised by Centre on Law and Social Transformation. The main focus will be on Democracy & Autocratization, Gender, Sexuality, Health & The Law, Contestations over Natural Resources & Climate Change, and Decolonizing Global Knowledge Regimes.
Join the event on Zoom using this link.
View the event program here.
Time 6:30 PM to 7:30 PM
Venue Zoom