Art Competition | Transform 2019 | Submissions Closed
Art Competition | Transform 2019 | Submissions Closed
Time Submissions closed
Venue Centre for Law and Policy Research
The Centre for Law and Policy Research is pleased to announce an Art Competition as a part of Transform 2019, the 3rd edition of the International Conference on Transgender Rights and the Law.
Artists are invited to submit their art in any still medium including painting, photography, sculpture, collage, drawing, installation, fiber art, or digital art.
Theme: Transgender rights and exploring ideas, experiences and struggles of the transgender and intersex community in India.
Three winners will be selected by a jury and announced during the conference.
We especially encourage artists who identify as transgender, non-binary, or gender non-conforming to submit entries.
Entry deadline: 12th September 2019
Exhibition dates: 13th – 14th September 2019
Venue: Bangalore International Centre
For more information, contact Deekshitha Ganesan (deekshitha.ganesan@clpr.org.in)
You can find the winners here.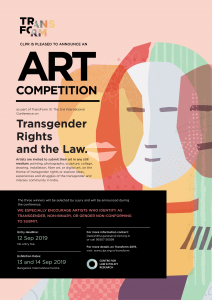 Time Submissions closed
Venue Centre for Law and Policy Research