Anti-Discrimination Policy: Hackathon
Anti-Discrimination Policy: Hackathon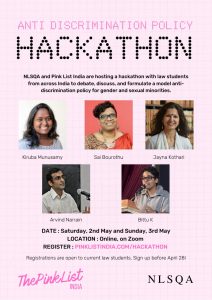 The distribution of homophobic teaching material at National Law University, Jodhpur, and the subsequent lack of concern by the administration has made one thing clear – colleges all over the country need a well defined anti-discrimination policy. ​
NLS Queer Alliance and Pink List India are hosting a hackathon with law students from across India to debate, discuss, and formulate a model anti-discrimination policy for gender and sexual minorities.
The hackathon will be held on 2nd May and 3rd May on Zoom. Registrations are open to current law students.
Sign up before April 28!
Link for the registration here