An Evening at the Bangalore Bar
An Evening at the Bangalore Bar
Time 7:00 P M-9:30 PM
Venue You Tube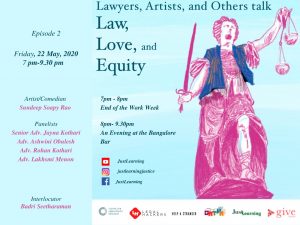 Join us for a conversation among some noteworthy personalities discussing their personal experiences, their evolution over time, and their understanding of the values that do and could animate their practice in the Garden City of India. An experienced Senior Advocate and 3 upcoming young lawyers, early in their careers, walk you through an Evening at the Bangalore Bar.
This is Episode 2 of the "Lawyers, Artists, and Others Talking Law, Love and Equity" initiative, a tri-weekly series of live-streamed art performances and semi-formal conversations with luminaries on specific themes of great relevance and civic importance.
The Panelists are:
– Senior Advocate Jayna Kothari
– Advocate Rohan Kothari
– Advocate Ashwini Obulesh
– Advocate Lakshmi Menon
The session will be preceded by an animated conversation with Namma Bengaluru's international comedy star Sundeep Rao in a session titled End of The Work Week, where Sundeep will explain to us why he's called 'soapy' and how to deprecate everyone (including himself!) and yet make people laugh with you, at themselves.
Tuning In
When:
End of The Work Week
7 to 8 PM, 22nd May 2020
An Evening at the Bangalore Bar
8 to 9:30 PM, 22nd May 2020
Where:
These sessions will also be fundraisers for three significant causes:
– social security for migrant workers
– food security for urban poor and
– protective gear for caregivers from every section of society
Please donate here
This event is co-hosted by Gathr, the Centre for Law and Policy Research, Help a Stranger, and the Dhwani Legal Trust.
Time 7:00 P M-9:30 PM
Venue You Tube