Aaeen: A Theatre Production on the Indian Constitution
Aaeen: A Theatre Production on the Indian Constitution
Time 03:30 PM
Venue Ranga Shankara, Bangalore
Centre for Law and Policy Research and The Company Theatre presents – Aaeen – a musical comedy. The world premiere of the show will be at Ranga Shankara, Bangalore.
Date: Saturday, 16 April 2022.
Timings: 3:30 pm and 7:30 pm
Early birds have a chance to get complimentary passes to the 3:30 pm show! Register here to try your luck!
Passes for the 7:30 pm show available here.
For any queries write to us at aaeentheatre@clpr.org.in
Check out our poster for the synopsis of the play and other details: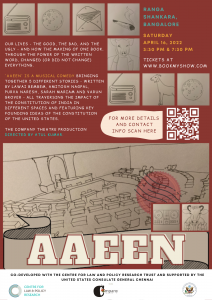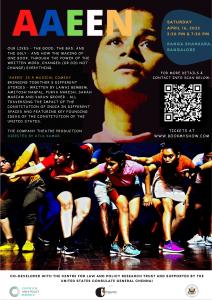 Time 03:30 PM
Venue Ranga Shankara, Bangalore