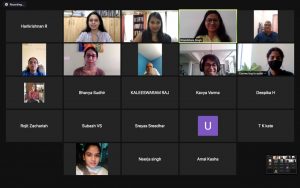 Centre for Law and Policy Research(CLPR) organised a legal training workshop for Civil Society Organisations (CSOs) in Kerala on the Scheduled Castes and Scheduled Tribes (Prevention of Atrocities) Act, 1989 on 18th September, 2021. The workshop was conducted virtually from 10 AM to 1 PM.  The workshop had two sessions – Session I dealt with the overview of the Act and the Rules and Session II dealt with the challenges in implementation of the law.
The introduction and welcome remarks were delivered by Ritambhara Singh, Communications Director, CLPR. Ritambhara informed the speakers and participants that the purpose of the CLPR workshops is to disseminate knowledge on legislations like the SC/ST (Prevention of Atrocities) Act.
The workshop consisted of two sessions.  The first session was led by Almas Shaikh, Human Rights Lawyer and Thulasi K.Raj, Advocate & Equality Fellow, CLPR. Almas spoke on the features of the Act and elaborated some of the judgments that have interpreted the provisions of the Act. Thulasi explained various provisions under the SC/ST (Prevention of Atrocities) Rules. She pointed out that many provisions of the Rules are unique since special care has been taken to ensure maximum protection and security to the members of the Scheduled Caste and Scheduled Tribes. This was followed by a Q & A session with the participants. Questions were related to compensation for victims and witnesses provided under the Act and whether such compensation has to be returned in case of acquittal.
Session II on the challenges in the implementation of law was led by Adv. Preetha K.K, Senior Government Pleader, High Court of Kerala and Mr. Ajay Kumar, Executive Director, RIGHTS. Preetha exemplified the implementation of the law with various anecdotes.  She noted that the problem with the Act is not that it is misused but rather the lack of its invocation and effective implementation. She said that the police officers often discourage the complainant from invoking the Act.  She further add that during the criminal trial adjudicating officers are often not sensitive to the purpose and intent of the Act. Mr. Ajay Kumar spoke about the grassroots interaction with the Act.  He said that it is a mistake to think that Kerala is a casteless society.  He added that persons from Scheduled Castes in Kerala face a tremendous challenge of convincing the authorities that the problem of caste exists.  He said that the authorities and the general public are in denial of caste as an institutional and social problem.
The session witnessed a lively discussion with the members of the audience. The workshop ended with Mansi Singh, Research Associate at CLPR, delivering the concluding remarks.