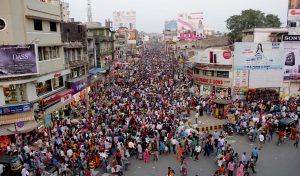 Image Source: Wikimedia Commons; Image only for representational purpose
A day before World Population Day, on 10 July, the Uttar Pradesh Government announced a draft of the Uttar Pradesh Population (Control, Stabilization and Welfare) Bill, 2021 (Bill). The Bill provides incentives to public servants and the general public to follow a two-child policy through voluntary sterilisation. It also includes disincentives: those who do not adhere to the policy will receive limited rations and subsidies and will face a disadvantage in applying for government jobs. The Bill has triggered widespread controversy.
Uttar Pradesh is not the first state to implement measures that encourage a two-child policy. The Rajasthan Panchayati Raj Act, 1994 disqualifies a person who has more than two children from contesting elections as a Panch or a member of the Panchayat. Madhya Pradesh has also followed a two-child rule since 2004: individuals with over two children are ineligible for government service. Similarly, Telangana, Andhra Pradesh, Gujarat, Uttarakhand and Maharashtra have implemented the two-child rule in various ways.
The U.P. government's urgency to pass the Bill is strange because the State's population statistics suggest that there is no need for such a Bill. According to the National Family Health Survey (NFHS) 4 (2015), the fertility rate in U.P. has gone down to 2.7 from 3.8 (NFHS-3, 2005). U.P. did see a population explosion in the past (from 1971 to 2001) – the decadal growth remained over 25%, , however, there is now a declining trend (20% growth from 2001 to 2011).
Even if there was a population problem or if the U.P. government wanted to avoid one in the future, the current Bill's strategy is rather outdated. Across the world, there is a broad consensus that coercion, incentives and disincentives do not lead to population control. Instead, population control policies must be based on informed free choice, and this was highlighted by the Programme of Action of the International Conference on Population and Development (UN 1994). An interagency statement by a consortium of international institutions like UNICEF and WHO went further to state that the decision of a person to undergo sterilisation must not be induced by incentives or coercion.
India has significant baggage when it comes to population control: during the 1972 Emergency, Sanjay Gandhi organised a compulsory sterilisation campaign as a part of a larger poverty reduction program. Multiple people died from botched/ haste operations.
Sure, the U.P. Bill does not make sterilisation compulsory. But in dangling incentives and disincentives, citizens who are electing to undergo sterilisation are effectively not doing so voluntarily. There very well might be circumstances in which population control is the need of the hour. Strategies to achieve this, however, must not undermine consent, choice, freedom and other values encoded in our Constitution.