After 5 years of hosting TransForm in Bangalore, one of India's first international conferences on transgender rights and the law, this year the Centre for Law and Policy Research ("CLPR") is putting together TransForm differently. We are putting together the first edited collection of writings on transgender rights in India titled, "TransForm: Transgender Rights and the Law in India". This edited collection will not only consolidate some of the enriching discussions and research that has been presented at TransForm, but also seeks to also invite authors to write on issues related to transgender rights in India that they have been working on.  
Given the trajectory of trans rights and movement within the past decade in the country, especially in the last 3-4 years with the Transgender Persons (Protection of Rights) Act 2019 and all the legal developments, there is a need for scholarly writing on the context of many transgender concerns in the Indian context such as reservations, reproductive rights, criminalization and prisons, among others. Such a publication will act as a sourcebook for researchers, students, civil society, lawyers and judges, policy makers, practitioners, and advocates for the discourse of transgender rights in India. 
This year, TransForm 2022, will be held in a different format and our public event is a panel discussion. We cordially invite you to our panel discussion titled, "TransForming Rights: How Law shapes Transgender Lives, Identity and Community in India".
The details of the event are as follows:
Date: 9th December, 2022 | Time: 5:00 PM
Venue: St. Joseph's Institute of Management, 28/1, Primrose Rd, Craig Park Layout, Ashok Nagar, Bengaluru – 560025
Speakers:
Dr. Svati Shah, Associate Professor, Women, Gender & Sexuality Studies, University of Massachusetts, Amherst (UMass) –

Judging Individualism: Reading Supreme Court Decisions and Legal Proposals for Sexuality and Gender Norms in a Shrinking Democracy

Santa Khurai, Manipuri Indigenous Nupi Maanbi Scholar and Activist –

Gaining Full Citizenship Of Manipuri Indigenous Nupi Maanbi And Nupa Maanba

 
Kalki Subramaniam, Founder, Sahodari Organization and Trans Activist –

Implementation of Transgender Rights: Where do we stand with NALSA today?
Moderator: Jayna Kothari, Senior Advocate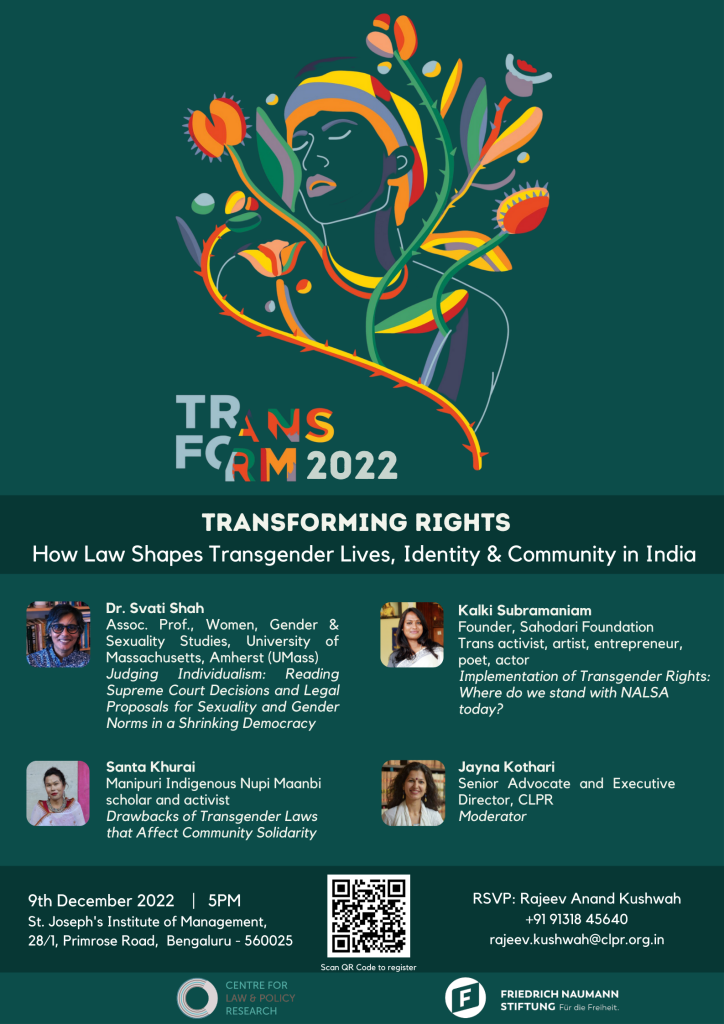 Please find the registration link here
Please find the speaker bios here