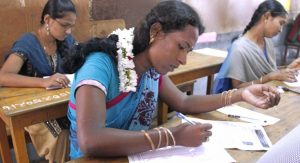 Educational institutions are meant to be safe spaces that every child in India has the absolute right to, regardless of who they are. Unfortunately for transgender students and the rest of the LGBTQ+ community, they remain quite the opposite. Currently, in India, the transgender students' dropout rates and pass percentages go undiscussed. As per the 2011 census, the total literacy rate among transgender persons was 56.1% for a total population of around 4.8 lakhs, against the national average of 74.04%. While there are many reasons for dropout rates and low literacy, a crucial aspect remains the lack of inclusive environments in schools and universities.
Indian educational institutions are often unequipped to ensure transgender students are allowed to pursue their education in a safe environment. An area that needs attention, among others, is the inability of institutes to support transgender persons who come out during their education. Whether they undergo gender affirmation surgery or self-identify their gender as being different from what is on their legal documents, trans students face a whirlwind of challenges due to inadequate policies. In India, there have been cases where students were not allowed to change hostels, were disallowed readmission post-surgery and faced long-drawn administrative processes that often bore no fruit. Some of the main hurdles that students face are changing their name and gender on official documents, a lack of accommodation, a dearth of specific committees, and no processes to facilitate a smooth and hassle-free academic and social transition. Due to inadequate policies, the long-drawn logistical processes often leave transgender students with close to no reason for staying on.
As per the landmark NALSA judgement, every person has the right to self-identify as a transgender person irrespective of medical treatment. The judgement also states that every transgender person is entitled to proper education. The Transgender Persons (Protection of Rights) Act 2019 obliges educational institutions to provide inclusive education to transgender persons and provide adequate facilities.  The Transgender Persons (Protection of Rights) Rules, 2020 directs the government to facilitate the accommodation and schooling of transgender, gender non-conforming and intersex children in residential government schools and universities. Further, the Madras High Court laid out directions to be followed by educational institutes that include ensuring the availability of gender-neutral restrooms, providing for change of name and gender on records, including transgender as a gender on forms and appointing LGBTQ+ inclusive counsellors for grievance redressal. It also directs the government to implement the Transgender Act and related Rules. The University Grants Commission (UGC) has stated that every university will take affirmative action to ensure the acclimatization of transgender students and create specific action plans for transgender persons. The National Youth Policy (NYP) of 2014 includes transgender youth under the category of youth that suffers from social or moral stigma and iterates the need to adopt a multi-pronged approach to help the LGBTQ+ community. The National Education Policy 2020 (NEP) envisions curtailing dropout rates and ensuring universal access to education at all levels.
Despite these visions and directions, very few institutes in India have created inclusive spaces for LGBTQ+ students. Therefore, there is an imminent need for all institutions to create gender-inclusive policies that consider the broad spectrum of needs. For transgender students, particularly those who come out during their academic years, there is a need to recognize the right to self-determine one's gender identity. Gender and name changes are to be facilitated seamlessly. For those who choose to transition medically, the institution must give adequate support (medical aid, financial aid, relaxations of course obligations, among others). Committees must also be formed to address gender and sexual minority grievances, with assured anonymity and proper process in place. State governments must also enact appropriate legislation to direct institutes and ensure compliance with such directions.  
Amidst the constant uphill battle that transgender persons endure, educational institutions in India are unfortunately, an extra hurdle to cross. Creating an accommodating environment for transgender persons, and all members of the LGBTQ+ community is imperative to ensure a truly meaningful and inclusive education system in India.
This article was written by Ameya Thachappilly, an intern at CLPR.