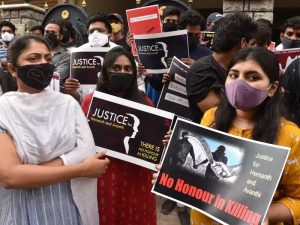 Last month, a Special Court at Madurai convicted 10 of committing an honour crime in Tamil Nadu. The verdict led to renewed demands for a separate legislation that targets the heinous acts known as 'honour killings'. This piece outlines the current legal framework for dealing with such acts and how a targeted law will be better equipped to ensure their deterrence.  
Honour crimes are acts of violence, mostly fatal, against persons who marry outside their caste or religion despite objections from the family, as noted in Report No. 242 on honour crimes by the Law Commission of India. These acts are often based on ideas of 'honour' of the family whose daughter has married outside caste considerations. Despite being brutal and prevalent, these crimes are often underreported and poorly indemnified.  
The current legal provisions dealing with honour crimes fall under the Scheduled Caste and Scheduled Tribe (Prevention of Atrocities) Act, 1989, which deals with atrocities against Dalits and Adivasis. However, such crimes are largely tried under the Indian Penal Code – specifically Sections 107–11 (abetting murder), Section 120A and 120B, Sections 299–304 (murder and culpable homicide), and Section 307-308.  
However, reporting of honour crimes under separate laws makes them difficult to track. More often than not, the crimes are covered up by the family. Further, the police neglects to take cognisance of the offences as they are believed to be the 'internal matters' of the community. In some cases, it treats the crimes as homicides or as crime atrocities under the POA Act. Thus, in the event that such crimes are reported, they should not be dispersed across different penal provisions.  
The latest report by National Crime Records Bureau (NCRB) for 2020 claims that only 23 murders across the country were motivated by honour killings (p. 165). However, unofficial sources such as Evidence, an organisation working against honour crimes, state that honour killings in the last 5 years in Tamil Nadu alone were 180 in number. In the past, NCRB has noted that crimes such as honour killings are 'vague' and 'unreliable', partially due to the lack of proper definitions, leading to their exclusion from final reports. Thus, honour crimes and their context require formalisation in order to be recognised.   
Lastly, the brutality of honour crimes has always demanded stricter punishment than the existing penalties. Honour crimes are committed to signal supremacy of the caste hierarchy to other communities and to deter any defiance. Their nature is often 'vicious', as highlighted in a recent judgment by the Gujarat High Court. Thus, a law for honour killings needs to enact stringent punishment to meet the crimes. Considering these issues, a focused legislation must be formulated to cover the context, definitions, compensations and legal action.  
Several Bills have been proposed to curb honour crimes in the country. The Law Commission Report included a draft Bill. It was subsequently passed by the Rajasthan Legislative Assembly in 2019 and currently awaits the Governor's assent. Iterations of this draft have also been presented by the National Commission for Women and as Private Member's Bills.  
However, the focus of these drafts is to prevent khap panchayats and other caste groups from assembling to interfere in matrimonial alliances. They do not centralise the prohibition of honour crimes by the family and caste group members. Moreover, they continue the existing, inadequate compensations, offer no legal support to the victims and neglect the active role of the family in such crimes.  
Instead, we must look to the Supreme Court judgment in Shakti Vahini v. Union of India which places security of the young couples at the centre and as an accountable duty of the State at the local and national levels. It directs the identification of districts with a history of honour crimes and the establishment of Fast Track Courts and Special Cells that offer counselling.  
Groups working against these crimes have long stated that only a focused law can curb them. As outlined here, there are multiple reasons to bring in a focused law that can comprehensively cover the preventative and punitive aspects of honour crimes. Until that happens, they will continue to be treated by many as a matter of maintaining caste endogamy.