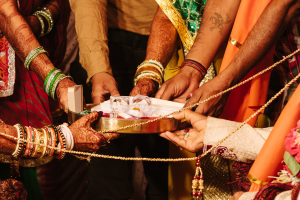 Source: Wikimedia Commons; Image only for representational purpose
On the afternoon of 29 January 1914 in Calcutta, a young woman, Snehalatha Mukhopadhyay, set herself on fire. Reports at the time indicate that she committed suicide to ensure that her father was not burdened with dowry for her marriage. At the time, dowry-related suicides were not uncommon in India.
The second half of the 19th century saw many reform movements addressing the issue of dowry – for instance, Munshi Pyarelal, social activist, and writer, worked towards limiting the amount of dowry that families had to cough up. Similarly, many journals like Education Gazette and Hindu Patriot regularly published articles criticizing the dowry system and its financial impact on many families. 
However, Snehalatha's death was arguably one of the earliest to be widely understood and acknowledged as a dowry death and was invoked as a symbol of many anti-dowry campaigns in Bengal, triggering social and literary reflection. Two other cases of dowry-related suicides following this incident further heightened the outcry in Bengal.  
Snehalatha's case was reported in most newspapers and publications both in Calcutta and other major cities of Bengal. Poems were written on this incident by writers like Pramatha Chaudhuri, Satyendranath Dutta and Kalidas Roy. Socio-political movements took up the issue seriously. The Marriage Reform League, an association formed to bring about changes in the social practices related to marriage, made the abolition of dowry a key part of its agenda, in response to the public conversations on dowry-related suicides. 
Condolence meetings were held in the city of Calcutta to discuss dowry prohibition – a large crowd gathered on 21 February 1914 in the College Square grounds at Calcutta, where they pledged 'to devise means to stop the social evil of extorting marriage dowry.' 
Rai Bahadur Chunnilal Bose, a social reformist, published a pamphlet titled 'Marriage-Dowry' in the Modern Review (June 1914) suggesting various measures to tackle such dowry deaths – like public education, inter-caste marriages and appointment of central vigilance commissions. He suggested that Snehalatha's case was a tipping point and called for massive social and political action to address the issue.
While Snehalatha's death might not have led to the abolition of dowry or prevention of dowry-related suicides, some have argued that it had one lasting impact – it dissuaded people from publicly defending dowry demands. In light of the recent devastating death of Vismaya Nair in Kerala, it's time for us to take stock and mobilise social and political action towards eradicating dowry deaths in India.