On April 14th and 15th, we hosted the 'Sexual and Reproductive Rights: Social Movements and Legal Battles' conference, in collaboration with the University of Bergen, Norway and the University of Sussex at the Bangalore International Centre (see the full agenda here). The conference aimed to bring together prominent activists, academics and lawyers to discuss important issues and approaches that have developed in sexual and reproductive rights (SRR) advocacy in India. One of the key objectives of the conference was to shed light on issues and marginalised communities that are at the margins of SRR discourse and action.
This blog post presents the key points raised on day 2 of the conference. See this post to read about day 1 of the conference. Videos of the conference will be made available shortly.
---
DAY 2:
Session I: Adolescent Sexuality and Child Marriage
Jaya Sagade (ILS Pune), Aparna Chandra (NLU Delhi), Swagata Raha (Enfold)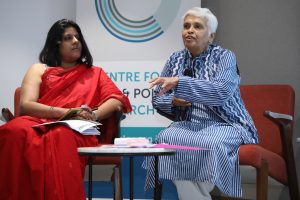 Jaya Sagade discussed the impact of child marriage on the sexual and reproductive rights of the girl child. She began by elaborating the consequences of child marriage : taking way the decision making capacity of girl child; no negotiation at the time of marriage; lack of negotiation in reproductive choices. Then, she focussed on effect of child marriage on health of the girl child. She pointed out that early pregnancies are common in child marriages which increases the risk of maternal mortality or complications like anaemia and high blood pressure. Lastly, she pointed to global trends where minor girls are seen as being more susceptible to STDs. This may be due to the child having very little bargaining power in reproductive choices with the partner. Finally, she pointed out that impact of child marriage on mental health of the girl child is an understudied phenomena and in Indian context, there is a need for studying this link.
Aparna Chandra focused on how POCSO has led to disproportionate targeting of adolescents engaging in consensual sex. She pointed out that both, the IPC and POCSO, criminalise sexual intercourse with anyone under the age of 18. She also drew attention to problematic sections of the POCSO Act which make it difficult for adolescents to engage in consensual sex and access healthcare services. She also elaborated on how POCSO has become a potent tool in hands of females' natal family as POCSO is often invoked to harass male partner who are engaged in non-normative relationships. She observed that unintended consequence of Independent Thought judgment has been to close the narrow window where adolescents engaging in consensual sex would later marry to escape liability under Rape Law.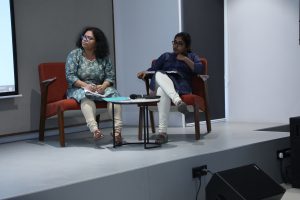 Swagata Raha discussed the challenges posed by POCSO in "romantic cases" amongst adolescence. She relied upon CCL-NLSIU studies to argue that absolute criminalisation of sex below 18 years has led to disproportionate punishment ranging upon 10 years even for consensual adolescent sex. Next, she referred to case studies to evaluate the impact of Independent Thought judgment on adolescent sexual intercourse. She proposed some areas for reform to address these relationships: (i) Decoupling Age of Consent for Sex & Marriage; (ii) Introducing Close in age exemptions on line of Romeo–Juliet clause so that consensual adolescent sex is taken out of the ambit of POCSO (iii) Creating awareness among children, families, and communities about POCSO Act so that they are aware of the absolute harsh nature of punishment. (iv) dialogue about restorative justice framework in context of punishment.
Session II: The Right to Abortion
Suchitra Dalvie (Asia Safe Abortion Partnership), Meenaz Kakalia (Human Rights Law Network)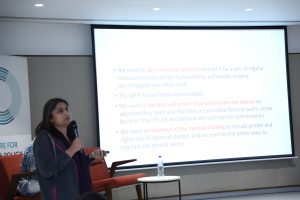 Suchitra Dalvie explained that the key legislation regulating abortion, the MTP Act of 1971, is often misconstrued as a liberal step emanating from women's rights. She argued that the Act was put in place to protect medical practitioners and lacks access to safe abortion due to multiple provisions. In addition, she discussed the inconsistent implementation of PCPNDT Act which criminalizes sex-determination and called for strict implementation of this law.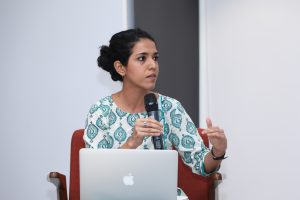 Meenaz Kakalia explained the limited leeway that is provided under the MTP Act for obtaining an abortion. She argued that creative interpretations are needed to expand the ambit of Section 3 of the MTP Act.  She touched upon favourable judgements of the Bombay High Court which have allowed abortions after 20 weeks.  She concluded by stating that the MTP Act in its current form is very restrictive for  women wanting abortion and there is a need to change the law.
Session III: Reproductive Rights and Disability
Anita Ghai (Ambedkar University), Renu Addlakha (Centre for Women's Development Studies), Nidhi Goyal (Rising Flame)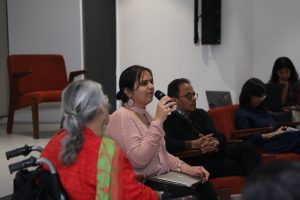 Anita Ghai argued that feminist discussions on issues of sex determination, sex selection, abortions, women's agency, exclude the issues and needs of persons with disability. She stated that the right to abortion must be unfettered but that for women with disabilities, sexual and reproductive rights issues also include the right to motherhood. She also drew attention to the contentious issue disability being cited as the cause of abortion, pointing out that if one had the power to choose a child, they would not choose children with disabilities. She argued that any child can have or develop abnormalities' but the kind of discrimination and stigma attached to disability persuades the couple to abort foetuses with abnormalities.
Renu Addlakha argued that "disability" as a concept comes from the medical domain which has shaped legal perspectives on disability. She stated that the lack of awareness of the needs and experiences of women with disabilities leads to ignoring the fact that POCSO, CMA and other women-specific laws are also applicable to them. She argued that by giving a special status to persons with disability and subjecting them to whole new legal regime functions to isolate persons with disability. She concluded by saying that the newly enacted laws are incorporating new ideas that help in the future and contribute to jurisprudence.
Nidhi Goyal argued that society infantilizes persons with disabilities, assuming a lack of agency and capability. Discussions of sexuality and persons with disability tend to be limited, either assuming that persons with disability are asexual or prone to sexual harassment.  The notion that persons with disability lack agency drives these perspectives. In everyday life, this translates to women with disabilities lacking access to information on contraception and laws concerning sexuality and reproduction.
Session IV: Reproductive Labour and Reproductive Justice
Mohan Rao (Independent Researcher), Anindita Majumdar (IIT Hyderabad)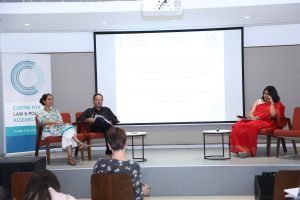 Mohan Rao argued that the issue of surrogacy must be contextualized within broader contexts of the global bio-economy and the devaluation of women's reproductive labour. While some liberal feminist claim that surrogacy is a matter of individual choice, Rao questioned whether surrogates really had a choice considering their caste, class, and gender positions.
Anindita Majumdar discussed whether surrogacy should be banned or not. She argued that surrogacy should be banned because of the underlying reproductive labour is exploitative. She pointed out that not banning surrogacy could lead to a harmful result that is evident in the Human Organ Transplantation Act. She also argued that altruistic surrogacy is also harmful because it binds women in 'gift-giving' relationships that are unequal in nature.
Session V: Moving Forward: The Present and Future of SRR
Siri Gloppen, Maya Unnithan, Jayna Kothari
The two-day conference ended with reflection on the key outcomes of the conference.
Jayna Kothari stated that the panels discussed several cross-cutting themes, bringing together the tensions and diversity of multiple social movements. She argued that litigation is not a common strategy that is used in SRR and can be made more efficient. Further, she stated that reform was required to several legislation, such as the MTP Act and PCMA.
Siri Gloppen pointed out that the conference had brought forward multiple power structures that were impeding sexual and reproductive rights, such as: familial patriarchy, paternalism in the medical profession and economy. She further pointed that there is lot of focus on power and very less focus on politics and there are several internal politics among the women's rights groups. She also stated that we need multiple strategies to contest these powers and build an inclusive movement to secure sexual and reproductive rights.
Maya Unnithan summarised the session and acknowledged the issues and strategies to move forward that Ms. Jayna and Ms. Siri presented. She questioned what was the historical perspective and why it is important now. Finally, she argued for the importance of practicing intersectionality in our everyday work towards securing sexual and reproductive rights.