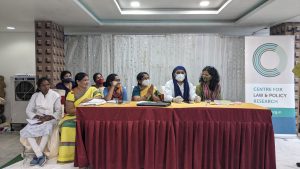 On 26th September, 2021, Centre for Law and Policy Research (CLPR) conducted a 'Know Your Rights' Session for persons employed in manual scavenging and related work. It was held at KNR Conference Hall, Champapet in Telangana.
The objective was to raise legal awareness regarding the provisions of "Prevention of Employment as Manual Scavengers and their Rehabilitation Act, 2013" (PEMSRA). The seminar was attended by 130 participants including people engaged in manual scavenging, sanitation workers, and university students working on the subject.
Gogu Shyamala, social activist and scholar, started the session by introducing the Centre for Law and Policy Research (CLPR) and Jayna Kothari, Senior Advocate and Executive Director of CLPR. Then Vyjayanti Vasant Mogli, trans social activist and Consultant at CLPR, took over to welcome everyone. In particular, she welcomed the families of persons who had passed away doing manual scavenging related work. She stated that the objective of the session is to inform the audience of their rights and compensation for working in manual scavenging related work.
Jayna Kothari led the session with a presentation on PEMSRA. She was accompanied by G Sushma, advocate practicing at the Hyderabad High Court, who translated the session from Hindi to Telugu. They detailed the provisions of the Act and emphasised that construction and use of dry latrines and manual scavenging have been prohibited by the Act of 2013. They compared the provisions with the PEMSRA 1993 and outlined the new provisions.
They explained that in order to discontinue such a generational occupation, which employs people from certain castes more than the others, the Act provides the rehabilitation of manual scavengers in alternate occupations. They also touched upon subjects of proper protection, minimum wages, and safety precautions required in cleaning of sewer/septic tank by the employer. Finally, they highlighted the need to conduct identification survey of manual scavengers under section 7 of the Act.
The presentation was followed by a discussion with the attendees who shared their testimonies regarding working in manual scavenging. Following are some excerpts,
"We are forced to do this job as we work on a daily wage basis. There is no fixed salary. If we refuse to work we will lose our livelihood for that day. If we refuse to get into the manholes, we will not be called for work in the future by the contractors."
"We are not provided paid leaves. If a manual scavenger is sick, he/she has to lose his/her livelihood for that day. We work on a daily wage basis. There is no nutritional food for us – though we know what honey looks like, we don't know how it tastes."
"Us women have become habituated to go to 'kallu' compound to consume alcohol. We have to do it to bear the stench while and after working."
The audience also heard the views of families who had lost members to manual scavenging and are determined to seek justice in the matter. The session ended with a vote of thanks by Gogu Shyamala who thanked the participants for their attendance and reminded them that legal recourse exists for those who seek compensation and rehabilitation.