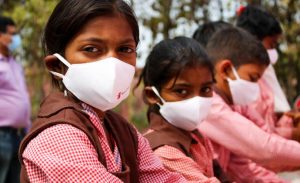 Image Source: Save the Children India
The second wave of COVID-19 has created havoc in our country. The deadly virus took many lives and left several children orphaned. As per the National Commission for Child Rights (NCPCR), more than 30,000 children were orphaned, lost a parent or abandoned during the period between April 1, 2020, and June 5, 2021.
This crisis led many to put out calls for adoption on social media. Many of these social media messages revealed the child's identity and personal details, thereby making them more vulnerable and susceptible to trafficking. Under the Adoption Rules 2017, before the adoption process starts, a child needs to be declared legally free. Moreover, disclosing children's identity is prohibited under section 74(1) of the Juvenile Justice (Care & Protection) Act 2015. Recently, the Supreme Court directed authorities to take immediate measures and called on States to collect information on children who had been orphaned since March 2020.
The pandemic has exposed gaps in India's child adoption system.
Cumbersome legal process and lack of awareness
Despite the recent changes in the adoption processes and implementation of Adoption Rules, 2017, the adoption process is still quite cumbersome. Not everyone is aware of  CARA (Central Adoption Resource Authority) and CARINGS (Child Adoption Resource Information Guidance System): the official agencies responsible for adoption. The online system is not available in regional languages creating another accessibility barrier.
Absence of counselling and psychological support
As per the Juvenile Justice (Care & Protection) Act 2015, prospective adoptive parents (PAP) should fulfil certain criteria. The current procedure does not include counselling sessions for prospective parents. This would ensure in preparing PAP to better adjust to post-adoption challenges. As per reports, many parents have returned their adopted children, which indicates a lack of awareness about the challenges both parties face during and after the adoption process.
Social stigma towards adoption
Adoption is still not accepted in our caste-patriarchal society that values blood over belonging. Adoption remains socially stigmatised because lineages are seemingly maintained by birthing our own children. This is why even surrogacy seemed to have greater social legitimacy since it allows for the fiction of bloodlines to be perpetuated.
The adoption regime is still heteronormative
Finally, even after the decriminalisation of Section 377, the LGBTQIA+ community is not being treated on par with heteronormative couples with respect to adoption. The Hindu Adoption & Maintenance Act (1956) and Juvenile Justice (Care & Protection of Children) Act, 2015 technically prohibit non-heteronormative couples from adopting.
In Shabnam Hashmi vs Union of India, the petitioner appealed for declaring adoption rights as a 'fundamental right under Article 21' for the child and also for the prospective parents. However, the Supreme Court failed to recognise the same, adding that this is not an appropriate time to declare it as a fundamental right. The Court saw this as a prerogative of the legislature and not of the judiciary.
As India is going through an unprecedented time, in the short term, the governments at all levels should focus on the 'best interests of the child' by establishing mechanisms to create a support system for children who lost their parents to Covid-19. In the longer term, the adoption regime needs to be reformed to ensure that the adoption procedure is made simpler and inclusive of all communities.